Risk Management
The QSHE electronic management system solution fully integrating the risk management processes, from identifying and assessing risk business-wide, to assigning and monitoring risk mitigation plans. QSHE also assists with creating indepth reports and defining long-term strategy for enhanced performance.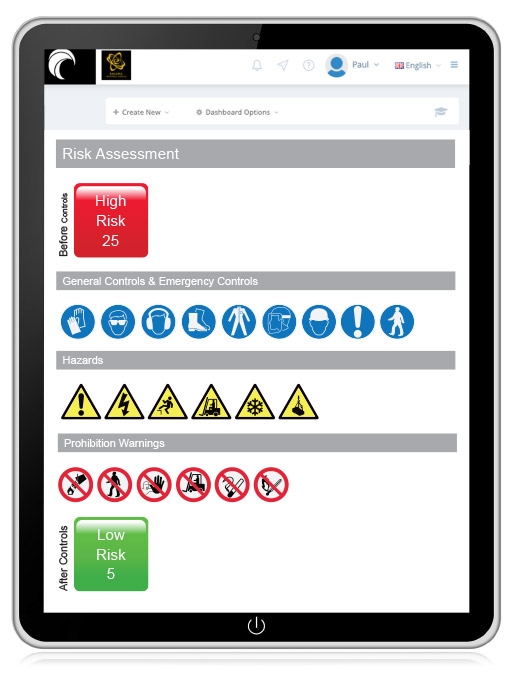 Management Reporting Features
The dashboard clearly displays a summary of risk assessments, published, unpublished, due in 30 days and expired with a clear identify number.
Dashboard search function to identify substances and be aware of all submitted SDS requests and Safety Data Sheet document updates.
Features & Benefits
Plan - Identify, analyse and evaluate risk
Do - Proactively manage risk with complete data capture, intuitive workflow and consolidated documentation.
Check - Improve collaboration and transparency reviewing risk assessments for compliance and control objectives.
Act - Consolidate all actions into streamlined milestones with the ability to track progress and set auto-reminders.
Risk Management Access
QSHE provides structured access to designated personnel with various access rights dependent on competence and requirement, for example:
Read Only – Individuals can only read authorised information to do so within their hierarchy.
Administrator – Can record but not publish information within their hierarchy.
Risk Assessor - Can record and publish information within their hierarchy.
Manager – Can record, publish information and create folders within their hierarchy.
Owner – Manages the QSHE platform on behalf of the company.
Benefits
Improve performance.
Ensure compliance with internal and external standards.
Engage with risk assessors and workforce.
Continuously update risk assessment libraries.
Advanced consistent clear risk-awareness throughout the business.
Intuitive user interface.
Safeguard company reputation.