Derby and Hartley Buildings - University of Liverpool
Liverpool
To support the university master-plan vision for the new School of Environmental Sciences in providing a state-of-the-art environment for teaching and research to promote collaboration. All the associated departments currently dispersed around the campus will be brought together and housed within the vacant historic Derby and Hartley campus buildings to put them back into good use.
The main contractor refurbishing the Derby and Hartley buildings is the Liverpool University construction business, and they have a proactive environmental consciousness to retain all heritage features. Also, to increase the structure's overall footprint by 13,777 sq ft, two extensions will be added to the existing buildings. A new six-storey circulation core extension will be built to link the Derby building with the Derby annexe, and the Hartley building will also be extended with two new additional storeys and a rooftop area. Additionally, a two-deck 64-space car park at the rear of the site is proposed, to complete the scheduled programme of works.
Stantec and Architect Sheppard Robson lead the professional team in close collaboration with the University's construction business.
Enigma provided a temporary access solution with a tube & fitting scaffold structure fully boarded on all lifts. To support the primary contractor, The University of Liverpool Construction Company (A wholly-owned subsidiary of Liverpool University), with building refurbishment works to repurpose two of the universities earliest surviving purpose-built teaching sites back into use.
The scaffold is integrated with a HAKI staircase, enabling tradespeople to easily access all levels to undertake interior and exterior refurbishment works, whilst the installed edge protection helps to protect passers-by from the potential of falling masonry debris. Enigma also erected a full-height scaffold within a stairwell area to support the refurbishment of a circular staircase.
Additionally, to further support the client, a temporary roof has been designed as a contingency in case the project overruns due to unforeseen issues with the state of the building or exceptionally inclement weather towards the end of the year.
On completion of the refurbishment works, the existing scaffold surrounding the Hartley and Derby building will be dismantled and re-erected at the rear to construct the new extensions.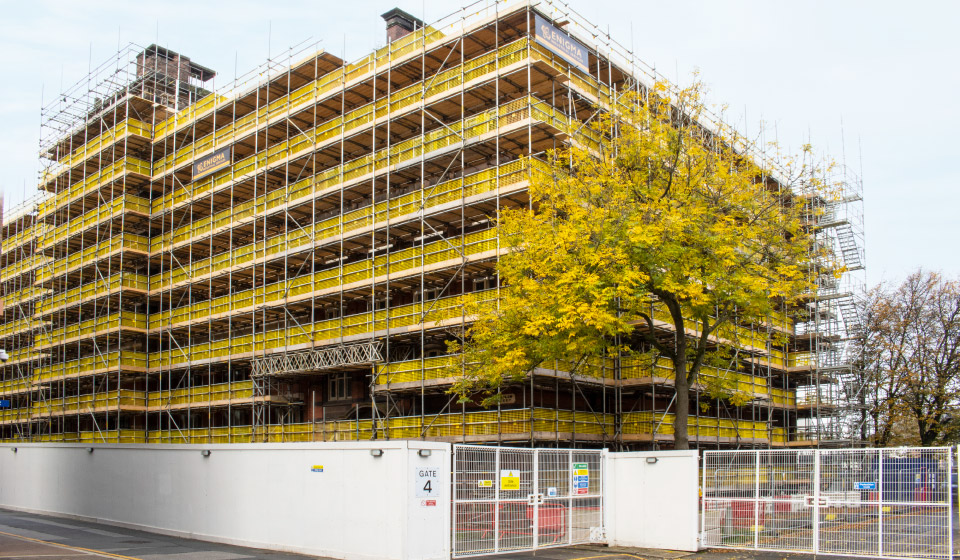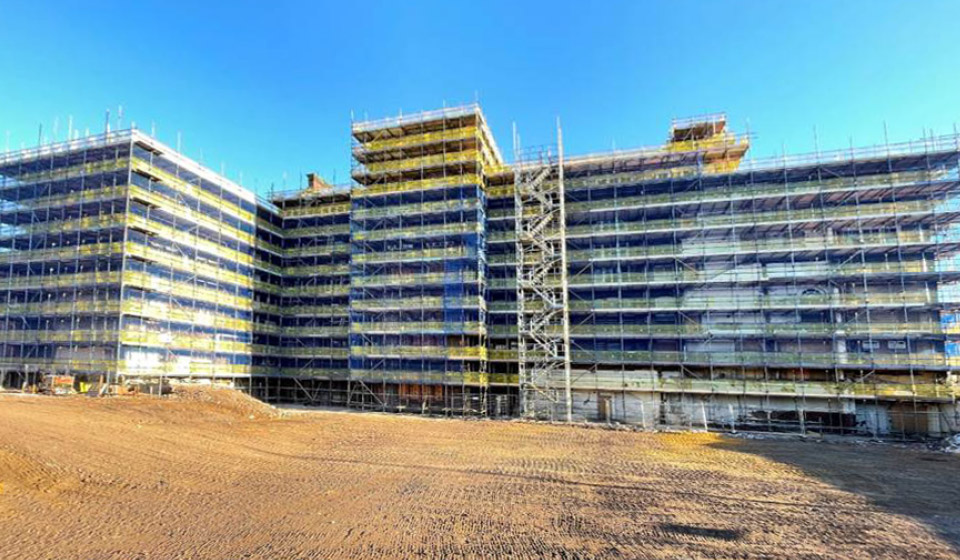 Due to the university building being old, limited architectural drawings are available of the structure. So Enigma Engineers had to spend significant time on site taking measurements before creating the initial design proposal. Additional site visits were carried out for amendments after the team discovered some basement light wells that weren't apparent during initial surveys. Our in-house design department (Comprising of eight engineers) was able to respond at short notice and amend the scaffold design to include some bridges, as shown on the working drawing.
Throughout the project, we worked closely with the client to provide full access whilst utilising all non-invasive methods of scaffold stabilisation on the historic buildings.