2022 Constructing Excellence National Award Winner Morganstone is a multi-disciplined construction company based in Llanelli, South Wales, and is working in partnership with Pobl Group on the Gorwydd development in Gowerton to build up to 100 houses and flats. The associated infrastructure programme involves a turn and compact project, followed by drilling and grouting up to 50% of the development and capping off several mine shafts on-site. Pobl Group is a registered not for profit charity organisation who play a pivotal role in the regeneration of towns and cities across Wales by building affordable homes that are available for rental or purchase to support local communities.
The Gorwydd development compromises around 35 properties of various styles ranging from 2-5 bedrooms and an apartment block. Enigma progressively built scaffolds around properties up to 4-lifts high using tube & fitting scaffolding with gable end hop-ups installed for accessing the roof areas to support the new-build construction and fit-out phases. Additionally, installed HAKI Staircases help to improve efficiency on-site and give tradespeople safe access/egress to all levels. Every housing block is constructed with a progressively built 10kn loading bay fitted with plastic rubble chutes and a hopper.
To further support the timber frame apartment block being built progressively and remove any risk of falling from the scaffold into the building structure void spaces before floor cassette installation. We erected birdcage scaffolds at ground level up to the building's 3rd floor.
In addition to the original contracted works, Enigma has installed independent scaffold platforms with loading bays along the CDM line retaining wall. All the scaffold structures are erected on-site within TG:20 COMPLIANCE.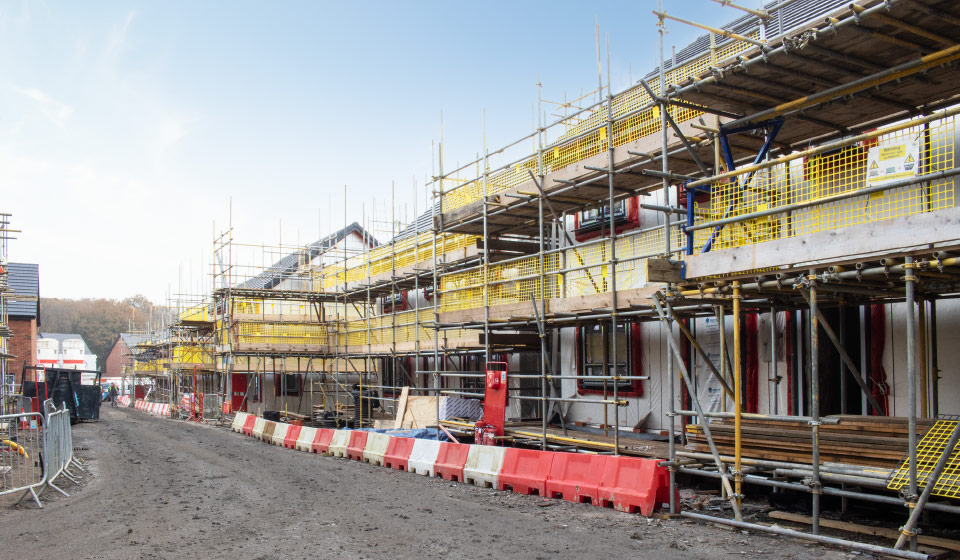 To support the building programme's tight-schedule SMART Inspector has been integrated for efficiency. The application setup is easy and makes scheduling, conducting, and reporting on scaffold inspections simple and efficient with a smartphone or tablet. While removing the need for manual paperwork, all inspection reports can be emailed automatically to the contractor. SMART Inspector is designed to work seamlessly with SMART Handovers because the two Apps share the same management desktop console. The client also benefits from automated 3D drawing visuals to check scaffold configuration proposals before they are erected to save on engineer's fees.
For more information on SMART Inspector visit: www.smartscaffolder.com • Please note: The images shown are for illustrative purposes only and not intended to represent the SMART Inspector 3rd Party software interface.