Ysgol Penbre (Pembrey School)
Llanelli
TRJ Ltd is constructing the new primary school for Ysgol Penbre (Pembrey School) on old playing fields adjacent to the existing school site. Once complete, the new school will have a capacity for 270 primary and 30 nursery places and provide state-of-the-art facilities and accommodation for pupils and staff. Also, The Flying Start facility, located in a separate mobile classroom on the current school premises, will be accommodated within the new school building.
The new modern purpose-built £8.25 million primary school has been designed by Carmarthenshire County Council's in-house architects as part of its multi-million pound Modernising Education Programme, and jointly funded by the Welsh Government through its 21st Century Schools initiative.
Enigma worked closely with the client to plan the interface before erecting a 4-lift fully boarded access solution by following TG:21 guidelines to support primary contractor TRJ with constructing the new modular timber frame school building. The scaffold structure utilising tube & fitting scaffold and brick guard protection panels surrounds the building with HAKI staircases installed to provide various tradespeople with safe access/egress to all working levels while constructing the new school. Additionally, bespoke designed loading bays help to support the fast-efficient safe delivery of materials on site.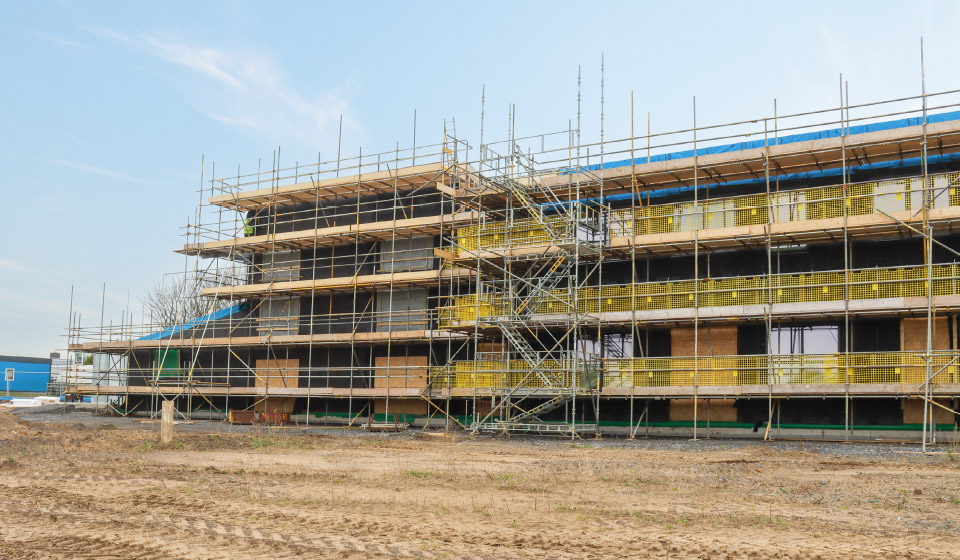 To support the timber-frame building project during the construction and fit-out phase, Enigma's operational team attended planning meetings with the client on-site to keep the programme on schedule for completion. This ensured tradespeople had unobstructed access to fit exterior wall cladding panels and windows before lifting the permanent roof into position. The loading bays permitted the safe transfer of materials into the building for lining the interior walls and installing pipework, ducting, cabling, and electrical services.