Temporary Roofs
Protect your site from rain, snow, cold or wind and retain productivity to ensure your work remains profitable and on schedule by stopping the negative impact of adverse weather conditions preventing work from continuing.
Our lightweight temporary modular roof solutions are suitable for small and large projects and available in an array of size options that can be quickly erected on-site or craned into position for greater flexibility. To help avoid the risk of water ingress or trapping moisture in the structure, resulting in damage that can become extremely expensive to rectify once a project is completed. Workspaces covered by a temporary roof provide workers with a dry, comfortable environment, improve wellbeing, and help boost productivity.
Temporary roofs benefit from being modular systems and can be quickly erected and dismantled. They are usually assembled at ground level because it's more cost-effective and faster before being lifted into position using a crane to minimise working at height requirements. Also, for added flexibility with some temporary roof systems, it's possible to add openings in the structures by removing sections to provide safe loading access to permit the craneage of new materials, installation of plant and machinery, or removal of waste.
Rather than constructing one large temporary roof, a mobile 'modular approach' can sometimes be a more efficient solution to support programme schedules when protecting large buildings and assets underneath by re-positioning the mobile temporary roof to cover each exposed part of the building, phase by phase. Our mobile temporary roof systems are available in mono-pitch or gable-pitch roof configurations, and the HAKITEC 450 system is ideal for smaller coverings with shorter spans. The system is fitted with wheels for added mobility to provide mobile protection when performing operations in a continually changing environment.
Mobile temporary roofs make ideal shelters for field workshops or weatherproof cover when carrying out site operations such as pouring concrete. Enigma erected fully encapsulated temporary roof enclosures airside at Glasgow Airport to support British Airways with a scheduled maintenance project to update their passenger aircraft fleet.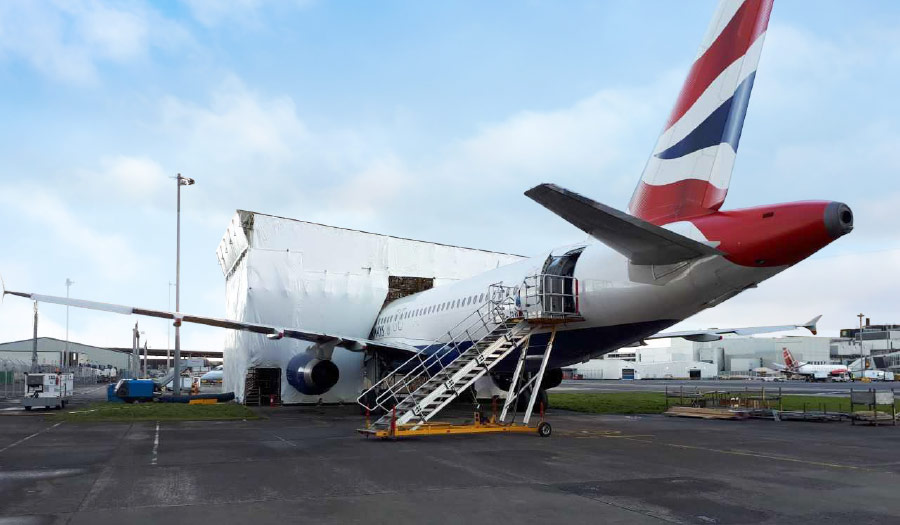 Temporary Roofs & Encapsulation
Once temporary roofs are in position, it's possible to fully encapsulate the side elevations to create a fully watertight containment structure to prevent work stoppages due to in-clement weather.
Encapsulation and containment are ideal for partially or fully wrapping building structures during construction, refurbishment, or maintenance to ensure projects remain on schedule while providing operatives on-site with a dry workspace environment.
Enigma applies various encapsulation product solutions including shrink-wrapping, to create continuous sealed weatherproof enclosures.
Temporary Roof Case Studies
Whether you need to envelop the whole building, the roof or specific designated work areas, our temporary roofing, shelter, and full encapsulation options provide a versatile solution to any project. Our in-house Design & Engineering team have extensive experience working with very wide roof-spans and complex challenges and have supported clients operating within numerous market sectors with Temporary roof, shelter, building, and workshop installations.
Enigma Industrial Services provide nationwide coverage and operate in the following market sectors: Agrochemical, Construction, Energy & Power, Food & Beverage Production, House Building, Industrial Manufacturing, Infrastructure, Petrochemical, and Pharmaceutical.
Temporary roofs protect projects from adverse weather, dust, and environment damage, whilst permanent roof structures are being refurbished or replaced and can help to keep essential public buildings, infrastructure, and industrial sites operational during maintenance or refurbishment works.
With many temporary roof cover solutions available, we have specialist expertise in providing economical solutions for all types of buildings and industrial structures to support projects ranging from new-build construction, refurbishment, maintenance, roof repair and replacement, and fire damage restorations.
Enigma has experience and expertise with the following:
Roll out moveable mobile roofs
Long-term temporary roofs
Portal frames and bridged access
Fully controlled temperature environments
Weather protection and encapsulation
Static or mobile shelters
Implementing weather seal leak-resistant Keder sheeting systems
Fully systemised lacing and bracing
Provision of removable openings within roof structures to permit access.
Achievable wide spans up to 40 metres
Pitched, mono-pitched or polygonal roofs
Erecting bespoke temporary buildings for additional storage/working space.
Insertion of roof opening to allow for material to be craned through
Full containment solutions (ideal for fire damage restoration or insurance refurbishment/repair projects)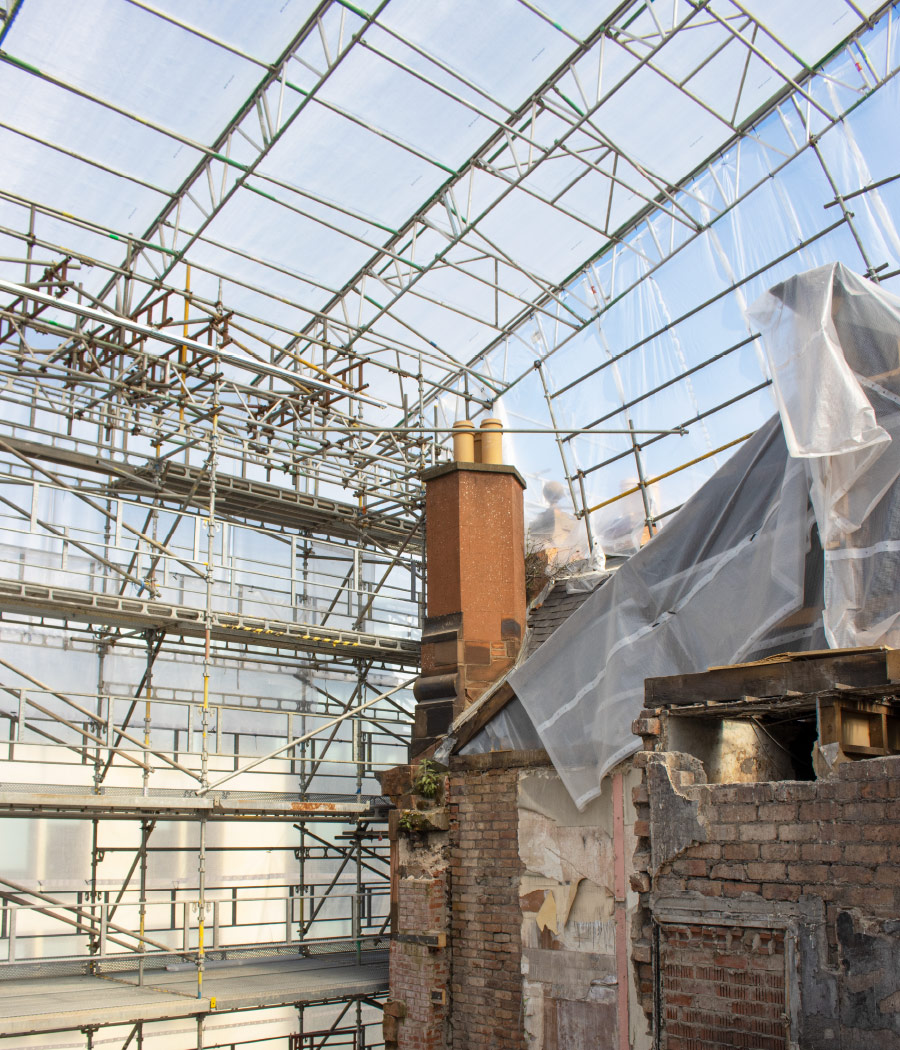 Temporary Roof Solutions
At Enigma we provide clients with the best temporary roof solution based on the specific project requirements and utilise the following systems.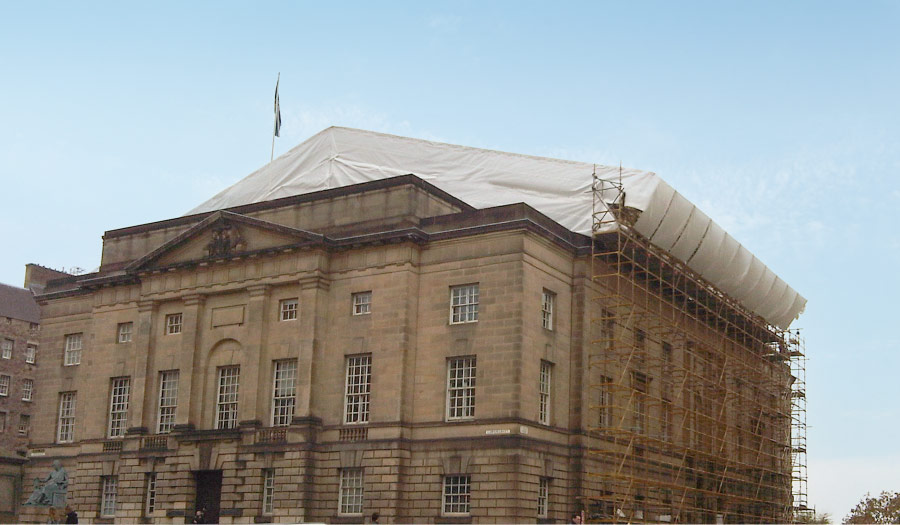 UBIX Temporary Roof System
The UBIX Temporary Roof System spans up to 40 metres using the standard beam configuration, and larger spans are achieveable with bespoke configurations and equipment. The aluminium roof system utilises Keder sheet covering.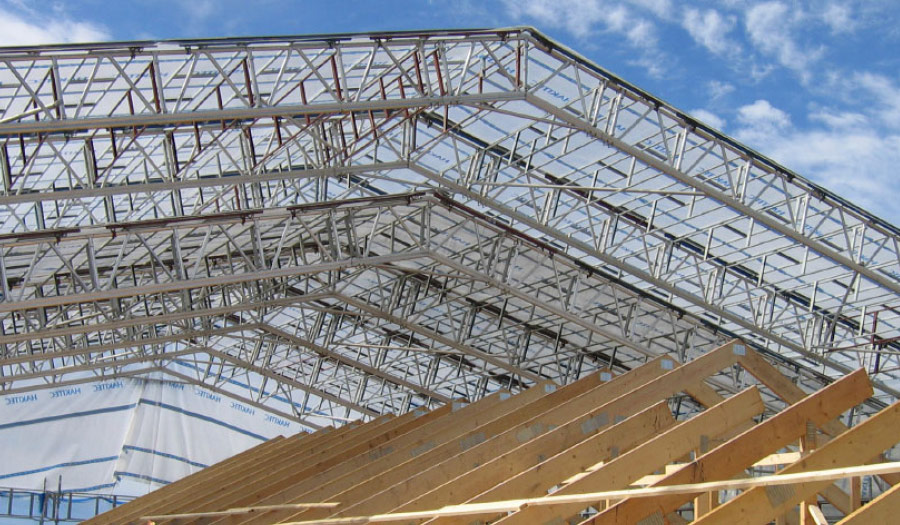 HAKI Temporary Roof Systems
The HAKITEC 750 Temporary Roof uses few components and can be quickly assembled to provide robust weather protection and covering for medium and large sites.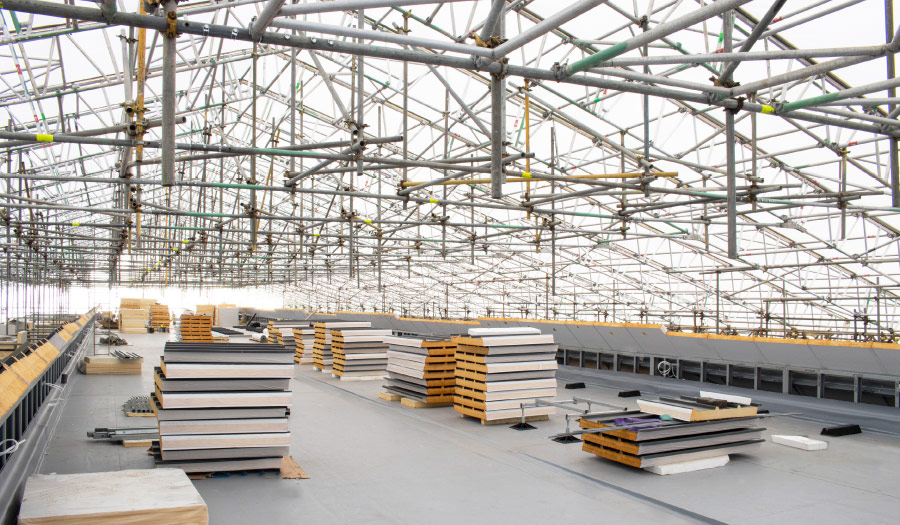 The lightweight modular temporary roofing system utilises a high capacity aluminium structure and PVC sheeting depths. The components are multi-purpose and are fully compatible with traditional tube and fitting scaffolding and all modular system scaffolds.