Encapsulation is applied to temporary access structures to help protect the surrounding area and create an enclosed weatherproof area for protection against adverse weather conditions. Encapsulation and containment are ideal for partially or fully wrapping building structures during construction, refurbishment, or maintenance to ensure projects remain on schedule while providing operatives on-site with a dry workspace environment.
Encapsulation is ideal for the following reasons:
Provide a dry area for surface preparation and applying protective coatings.

Containment during blasting or abrasive surface tasks to safely contain by-products, grit, debris, and dust, before removing from site.

Protect exposed interior building spaces during construction, fit-out, refurbishment, or restoration phases.

Protect industrial installations, plant, or machinery from weather exposure during installation, replacement, maintenance, repair, or outage work requirements.

Provide suitable containment for the safe removal of asbestos, lead paint, or other sensitive hazardous materials.

During demolition, to protect the external environment from contaminant and waste exposure or falling debris.

Containment is good practice for creating a safe internal environment when working in heavily populated or highly exposed location areas.

Provide confinement for contaminants in both internal/external environments.

Helps to support temperature-controlled environments to promote suitable work conditions.

Provide containment work areas which can be placed under negative pressure by utilising air movers to help extract airborne dust using enclosed dust filters.

Protect equipment, store new materials, and provide workers with a dry windproof workspace.

Helps in deterring trespassers from entering the site when unoccupied to prevent vandalism, theft, or damage.

Stop wildlife, unwanted pests, and flying birds from entering interior spaces or temporary exposed structural cavities.
Encapsulation Solutions
Enigma applies various encapsulation product solutions based on the specific project requirements and usually install durable polythene plastic sheeting that's heat welded, utilising a shrink-wrapping process to create a continuous sealed weatherproof enclosure that is less prone to tearing. Shrink-wrapping allows natural light to penetrate the substrate and is a versatile solution ideal for protecting very exposed sites, large-scale structures, or tall temporary access configurations against harsh weather conditions. The solution is well-suited for built-up commercial, residential areas, or industrial sites.
Once applied, flame retardant shrink-wrapping is long-lasting and fits tightly around the scaffold to provide a cladding surface 'smart and clean in appearance' that will not flap noisily, detach from the temporary structure, or look untidy after being installed for long periods. Usually, the polythene plastic sheeting can be repaired and recycled after use.
Additional solutions include traditional plastic sheeting that's normally attached to the next adjoining sheet using bungee strings. However, this latter solution leaves gaps between the individual sheets through which dust, debris, and weather elements can penetrate.
Creating fully closed working areas with encapsulation produces a safety-barrier to help eliminate potential problems with falling debris, air pollution or issues caused by contamination risks.
Our in-house Design and Engineering Team work closely with clients to design, build and wrap entire structures to ensure the sheeting installed for scaffold encapsulation will not detach in high winds or inclement weather conditions.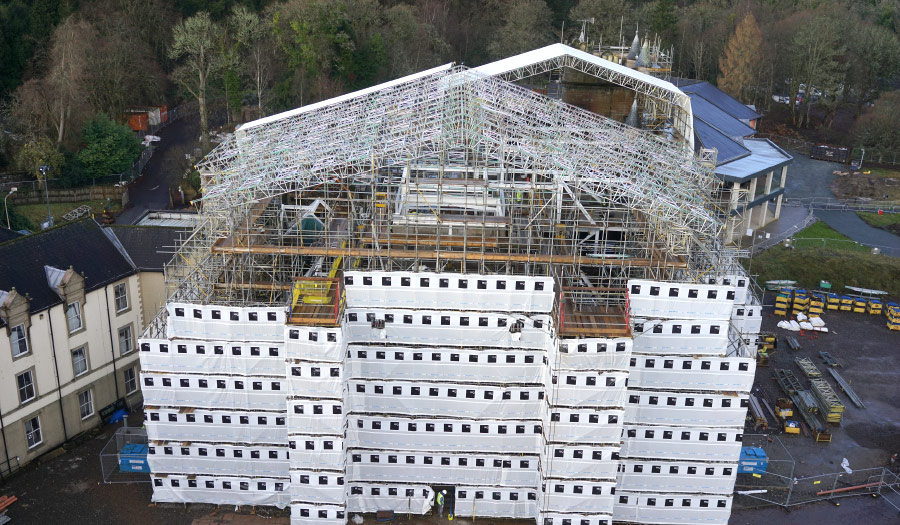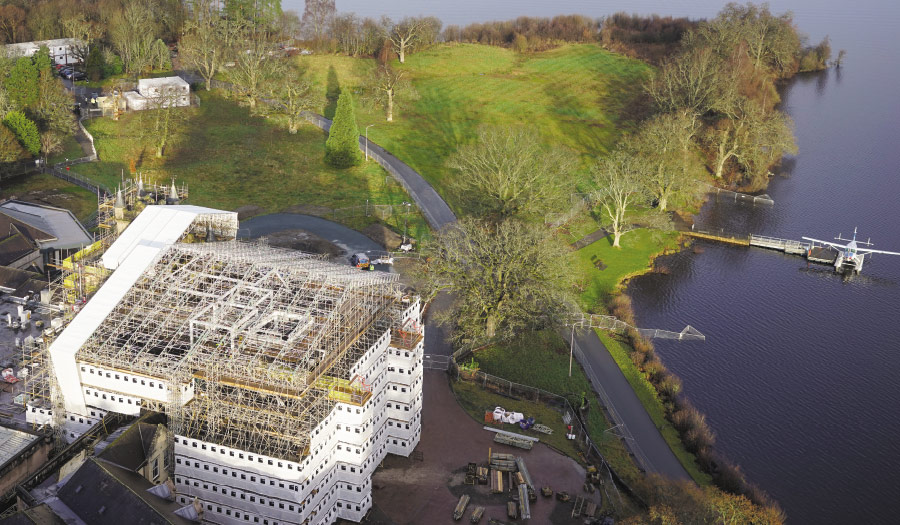 Encapsulation Case Studies
Type 'Encapsulation' into the Project Library search field to view our case studies that showcase encapsulating historic buildings during refurbishment (for example: Sandhurst Royal Military Academy) and creating temporary watertight structures at UK airports to support passenger aircraft maintenance and upgrade activities. It's also possible to wrap buildings with encapsulation adorning advertising, ideal for promoting services or products in city centre locations or high-traffic areas. Please read our George Street, Glasgow, Case Study.
Printed Encapsulation Solutions
Printed Encapsulation is a cost-effective solution for promoting new building development projects under construction or refurbishment, and buildings encapsulated within prominent high-traffic areas or city centres are ideal for displaying third-party advertising to help generate additional revenue. It's also possible to print an impression of the proposed/existing building facade underneath, and this solution was implemented while refurbishing Sandhurst Royal Military Academy. The wrap printed with an image of the academy was attached to the scaffold exterior to ensure minimal disruption to Royal visits and Officer cadets graduating from the Royal Military Academy Sandhurst Sovereign's parade.
Contract Scaffolding with Encapsulation Service
Click below for more information on how Enigma's contract scaffolding services can support your project or request a quotation. Enigma operates one of the largest scaffolding asset bases in the UK and services multiple market sectors. Our In-house Design & Engineering Department supports clients' projects from inception to completion.