A facade refurbishment of two, fifteen storey tower blocks. The project also included a two-storey rooftop extension.
Our scope was to supply scaffolding to allow the installation of a high-performance layer of external insulation to the existing façade along with a new aluminium and terracotta cladding system. Replacement of the existing windows formed part of the project as one of the project aims was to improve the thermal efficiency of the ageing tower block. The project also consisted of a new, state of the art, eco-pod prefabricated plant room with photovoltaic cells which included the installation of roof level solar heating panels.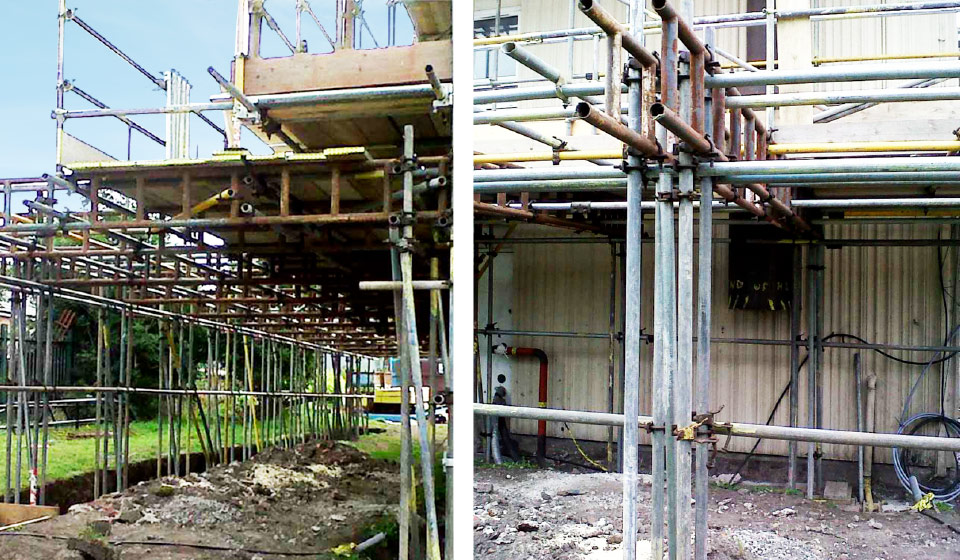 Our design included 3.00-metre lifts to match the existing floor heights. We were requested to erect the proposed external access scaffold elevation by elevation, which is not a common practice due to using the hoist as a means of material access.
Our design also needed to take account of a new service installation that was taking place at ground level adjacent to the building. We accomplished this by using suitably braced lightweight beam bridges, spanning the services below.