Anchor Line Building Conversion Project
Glasgow
Provision of temporary access on behalf of primary contractor ISG for iconic city centre building conversion project, to create a contemporary 64-bed aparthotel.
Originally designed by James Miller and constructed in 1906, the seven-storey Edwardian Art-Deco styled, white Carrara marble building, located on St. Vincent Street, was the former headquarters for the infamous Anchor Line Shipping Company. The ground and lower basement floors are currently home to a bar, brasserie and restaurant.
Primary contractor ISG has converted the upper floors of the iconic city centre building into an apart-hotel containing 64 stylish studios and one-bed apartments on behalf of The White Building Development Company Ltd. The £5.5m refurbishment project of the six accommodation floors incorporated retaining original features, stripping out redundant fixtures and fittings, replacing windows and installing a new passenger lift.
Enigma provided a suspended scaffolding solution at the historic Glasgow city centre building to enable safe pedestrian access to continue in the busy street below throughout the conversion project. It also ensured the businesses operating on lower floors could remain open with minimal disruption caused to customers by providing safe access/egress to the building entrance.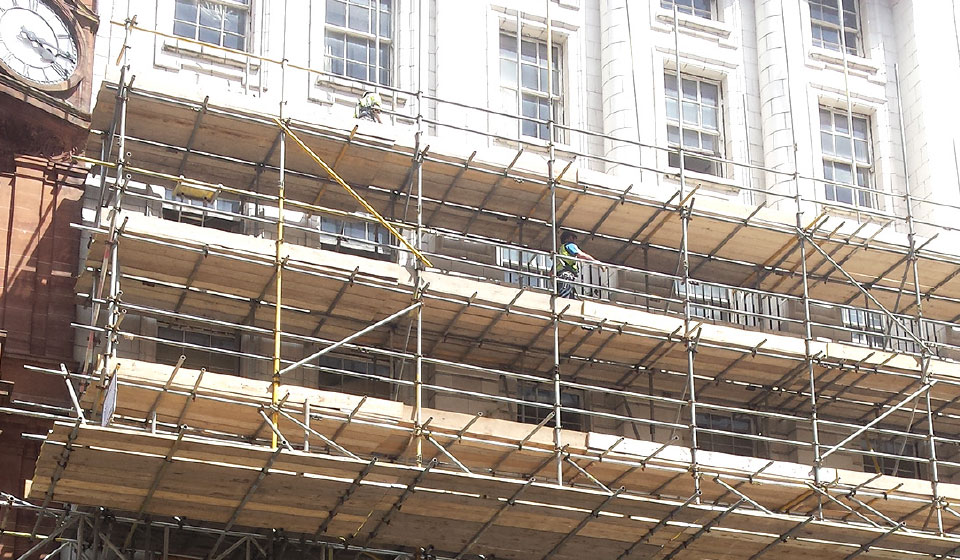 The fully encapsulated scaffold structure provided a weatherproof environment for our client ISG to ensure the project remained on schedule. Whilst also enabling ISG to safely install a single-storey recessed rooftop structure extension so guests can enjoy breath-taking views over the city.