EDS Complex re-roofing project
The EDS (Engineering Drum Stores) complex is situated within the Sellafield nuclear site providing modern fit-for-purpose storage for intermediate level waste. Enigma provided internal and external temporary access solutions incorporating the design and installation of a large-scale bespoke ramp for the EDS Complex re-roofing & refurbishment project.
A primary contractor was appointed to complete the refurbishment and re-roofing of the EDS complex on-site at the Sellafield Nuclear Facility. Enigma supported the project by providing internal and external access solutions for the duration of the EDS complex refurbishment programme.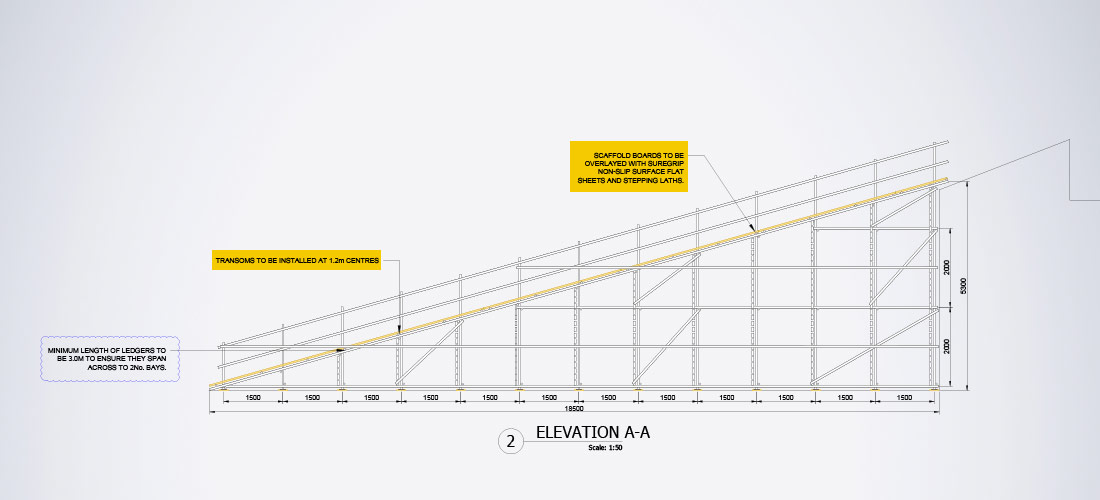 The primary contractor required a solution to deliver the material to roof-level ready for installation. During the planning phase of the project, Enigma's in-house scaffold design engineers visited the site to better understand the scope of work, as well as determine project constraints. Using innovative design solutions, Enigma's design engineering team devised a bespoke 5-metre high ramp, facilitating safe and efficient access to the roof-top.
Once installed, Enigma's access solution was then modified to provide a seamless conveyor belt process for the client to process the flat sheets. The sheets passed through specialist on-site machining equipment in an adjacent building before being transferred to the roof. Delivering an adaptable, multi-purpose solution was instrumental in helping the client to keep the project on schedule whilst delivering value for money.
Enigma Site Manager, Paul Hunter, commented "The project had several challenges that all had the potential to push completion beyond the initial programme. Using our experience on-site, coupled with the expertise of our design team, we were able to propose a safe, high-quality solution that satisfied all stakeholders".