Ysgol Garth School
Location: Rhondda - South Wales
The Community Campus accommodates a library, nursery, youth centre, primary and comprehensive school. The original scope to provide edge protection for roof repairs was updated with additional specifications to accommodate the further replacement of new roofing sections.
The project scope was to provide a perimeter scaffold on the campus roof to give the contractor edge protection whilst undertaking roof replacement works.
The scaffolding solution designed by our In-house Engineering Team included a mixture of independent Scaffold, HAKI staircase access and edge protection to provide safe access/egress for the contractors. Enigma provided edge protection by an agreed phased approach throughout the schools holiday closing period. However, due to the Coronavirus national lock-down and delays throughout the construction industry. During the COVID-19 restart period, the client requested to accelerate their original programme, to complete the whole project, whilst pupils and staff were not on site. This request combined with additional structural changes were completed within time and cost constraints that is reflected in the overall project's success.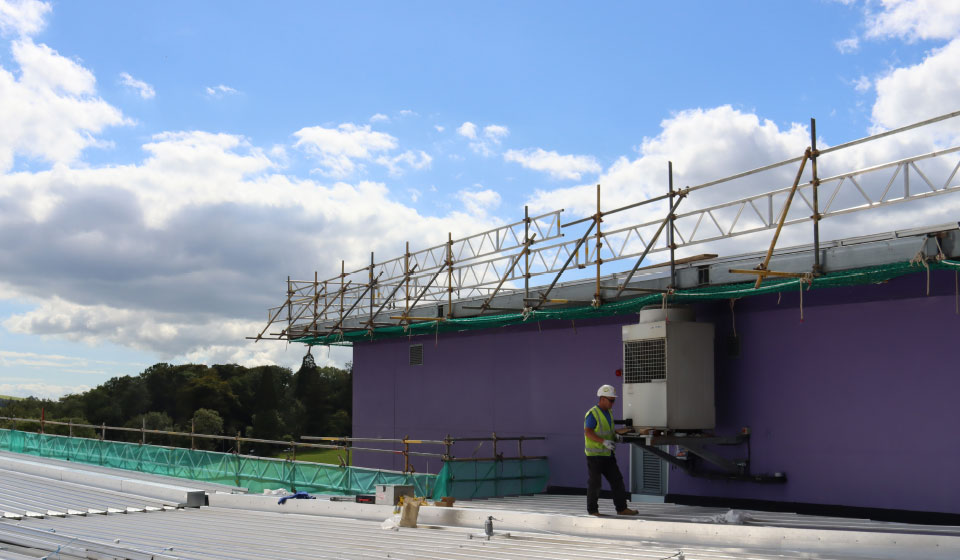 The project was delivered safely during the COVID-19 lockdown period by following government guidelines, enabling VINCI Construction to continue working and complete the project. Logistics also had to be suitably planned with the school re-opening to ensure that there was no disruption to pupils accessing the campus. With the resource safely working within the new Construction guidance issued for COVID -19. The project experienced supply chain difficulties because of the applied Furlough schemes. However, the Enigma South Wales team delivered a significant reduction in material costs whilst reducing the programme duration, resulting in successful clients reviews.