HAKI Bridge System
The 2m wide HAKI Bridge System (HBS) is a safe temporary railway crossing solution for pedestrians and can be built off-site and positioned within just 15 minutes, to minimise possession time disruption on busy track sections. Designed following leading British and European standards, the system can handle impressive loadings of up to 7.5kN/m2 with a maximum span up to 30m dependent on the imposed live load.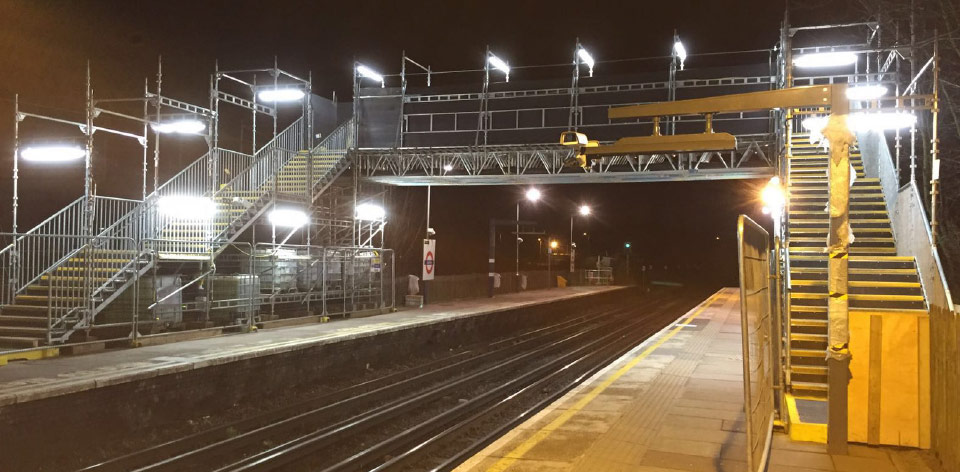 The HAKI Cladding System can also be used to enclose the bridge to offer further safety benefits, including the risk of falling objects and falls from height. Whilst also providing noise reduction and protecting the general public from bad weather or high winds.

Cladding System
HAKI cladding system is the ideal solution for site hoarding, stair and bridge enclosures, to reduce noise and improve public safety. By preventing falling objects from temporary stairs, bridges or working platforms. The lightweight toughened plastic fire-resistant panels are compatible with both scaffolding systems and traditional tube & fitting scaffolding.

The cladding system can also, be used to create swing doors for stair towers, to provide security when not in use. One man installation is possible with the specifically designed HAKI cladding track.
HAKI Bridge System for sale or hire
When you need to hire or purchase HAKI scaffolding or temporary access solutions, contact Enigma Industrial services direct on
0330 678 1199
. We have the largest stockpile of HAKI in the UK, and customers can obtain stock from 7 strategically located Enigma Industrial Services depots throughout the UK. Contact your
local Enigma Industrial Services
, sales representative for additional HAKI Bridge System product information and technical data specification documentation.
Enigma is the official UK distribution partner.