HAKITEC Temporary Roof System
Protect your site from rain, snow, cold and wind to make your work more profitable!
Today, it's common to use weather protection on building sites for the following simple reasons;
Increase Productivity
It's easier to keep on schedule and ensure the success of projects. Without the negative impact of adverse weather conditions preventing work to continue.
Improve Well-being on-site
Providing workers with a dry, comfortable environment will improve well-being and help boost productivity.
Avoid Expensive Moisture Damage
Using weather protection will help avoid the risk of trapping moisture in the structure resulting in damage that can become extremely expensive to rectify once the building has been completed.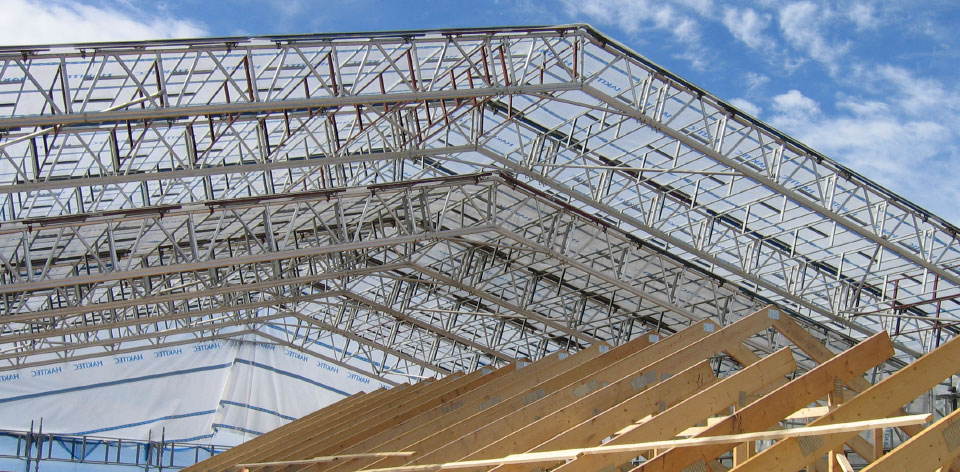 The HAKITEC Temporary Roof system is the perfect economical solution to help keep your work environment safe and dry. All HAKITEC Temporary Roof systems have very few components and are quick and easy to assemble, it's also possible to build the roof at ground level and crane it into position for greater flexibility on-site. Both the HAKITEC 750 and HAKITEC 450 systems utilise robust aluminium lattice beams to create strong structures that can provide large spans.

HAKITEC 750
Utilising 750mm deep lattice beams, they are available in various lengths and angles to provide flexibility and help tailor the roof trusses to the required span. The temporary roof system has been specially designed for wide spans and high loads to provide weather protection. HAKITEC 750 temporary roof structures can be covered with HAKITEC sheeting on braced guardrail frames with the aid of fixing beams. Also, for peace of mind, the sheeting is manufactured from durable heavy reinforced LD polythene.
Alternatively, the HAKITEC 750 with HAKI Trak system has the same framework but benefits from utilising more hard-wearing sheet covering that's very easy to install. This system consists of Keder beading and aluminium tracks.
HAKITEC 450
The HAKITEC 450 system utilises 450mm deep lattice beams and is ideal for smaller coverings with shorter spans and can be erected to create a mono-pitch roof or gable pitch roof solutions before being covered with HAKITEC protective sheeting. The HAKITEC 450 Shelter has the additional benefits of being fitted with shelter legs and wheels to provide mobility, this feature is ideal for providing mobile protection when carrying out on-site operations such as pouring concrete.
HAKITEC is available as a total covering, fixed or wheeled roof, wheeled roof section over an opening for material access, temporary storage unit or field workshop.

HAKITEC Temporary Roof Systems for sale or hire
When you need to hire or purchase HAKI scaffolding or temporary access solutions, contact Enigma Industrial services direct on 0330 678 1199. We have the largest stockpile of HAKI in the UK, and customers can obtain stock from 7 strategically located Enigma Industrial Services depots throughout the UK. Contact your local Enigma Industrial Services, sales representative for additional HAKI temporary roof product information and technical data specification documentation.
Enigma is the official UK distribution partner.