HAKI Universal
HAKI Universal is a lightweight system scaffolding solution benefiting from a simple 'hook-on' method to ensure faster erection and dismantling. The system scaffolding components are highly durable and manufactured in hot-dip galvanized steel or aluminium. HAKI Universal scaffolding provides high levels of adaptability using minimal components, to quickly erect simple or complex scaffold structures. The system scaffolding is commonly used on new housing developments throughout the UK and can also, be utilised to erect circular, birdcage and suspended scaffold structures.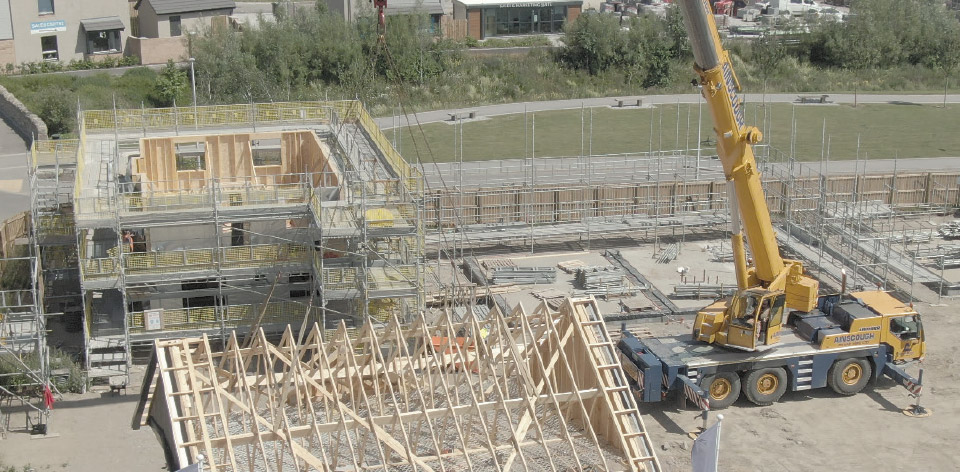 Independent Scaffold
HAKI Universal uses 7-10 core components and is extremely versatile to provide maximum productivity and is up to 60% faster to erect when compared to traditional tube and fitting or alternative system scaffolding solutions. The HAKI Advanced Guard Rail (AGR) offers a safe system of work, meaning independent scaffolds and other structures can be erected using collective measures in accordance with the NASC SG4:15. Another unique feature of HAKI Universal is the HAKI Ledger Beam that enables load-bearing connections to be made either horizontally or vertically along its length, and combined with the HAKI Universal Beam Rider, returns and in-fills can be created at any point, as well as allowing 'fly past' at corners. This results in maximised bay lengths up to 3.05m, which reduces erection times and installation costs.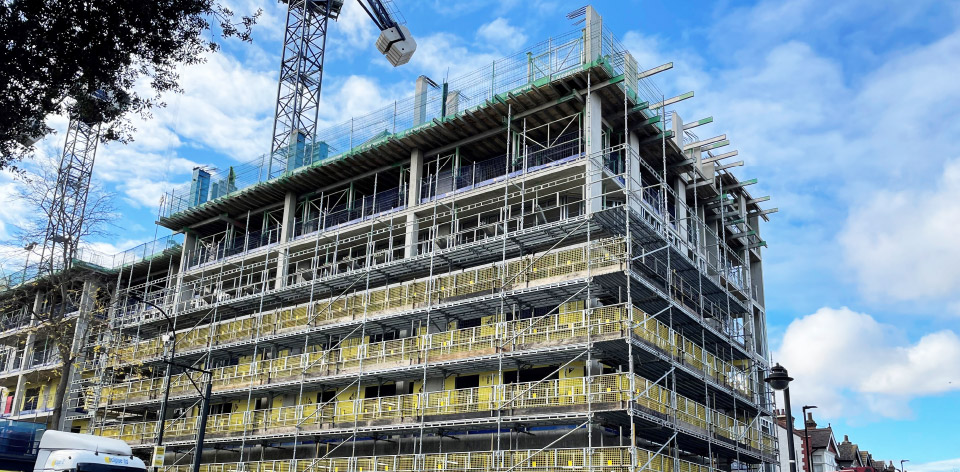 Circular Scaffolding
HAKI Universal is ideal for erecting circular or tank scaffold structures without requiring additional or specialist components. Horizontal components can be turned 7° relative to the standard, enabling the scaffold to be rotated by up to 14° on plan at each standard to create a circular temporary access structure. Additionally, radial plates are available for any unusual bay sizes to safely cover gaps between towers.
Birdcage Scaffold
HAKI Universal is ideal for constructing Birdcage scaffolds within buildings for high-level work to access ceilings. The top lift is decked to form the access work platform and usually consists of more than two rows of standards in both directions connected to ledger beams at every lift height. Multiple scaffolding bays can be quickly connected to provide larger areas of continuous access.
Suspended Scaffold
HAKI Universal can be used to erect suspended scaffold from virtually any load-bearing structure and is commonly utilised throughout the offshore, petrochemical and shipbuilding industries. A unique range of components and multi-functional ledger beam acts as a suspension device to suspend structures from a safe zone. Also, HAKI steel and aluminium decks help to reduce the potential risk of slips and trips.
Specification:
HAKI Universal system scaffolding has a bay width of 700, 770, 1010, 1250 or 1655mm and a bay length of 3050mm with a lift height of 2000mm. Additionally, Single ledger beams (ERB) and ledger beams (LBL) can be utilised for ledgers or transoms.
HAKI Universal for sale or hire
When you need to hire or purchase HAKI scaffolding or temporary access solutions, contact Enigma Industrial services direct on 0330 678 1199. We have the largest stockpile of HAKI in the UK, and customers can obtain stock from 7 strategically located Enigma Industrial Services depots throughout the UK. Contact your local Enigma Industrial Services, sales representative for additional HAKI Universal product information and technical data specification documentation.
Enigma is the official UK distribution partner.