HAKI Stair Tower
A recognised marketing-leading solution, the HAKI stair tower is recommended by industry bodies such as the Considerate Constructors Scheme as a suggested replacement for ladders to provide safer access on-site.
The HAKI stair tower is adaptable and provides safe, efficient access and egress for workers and materials. Also, with fewer components utilised when compared to alternative systems, the HAKI staircase solution helps to reduce the dangers of human error or falling materials. Additionally, the non-slip treads and flush landing areas, reduce the risk of trip hazards from slipping. The HAKI stair tower can be used independently or integrated within another scaffolding configuration and utilises a simple 'hook-on' locking catch system for quick erection.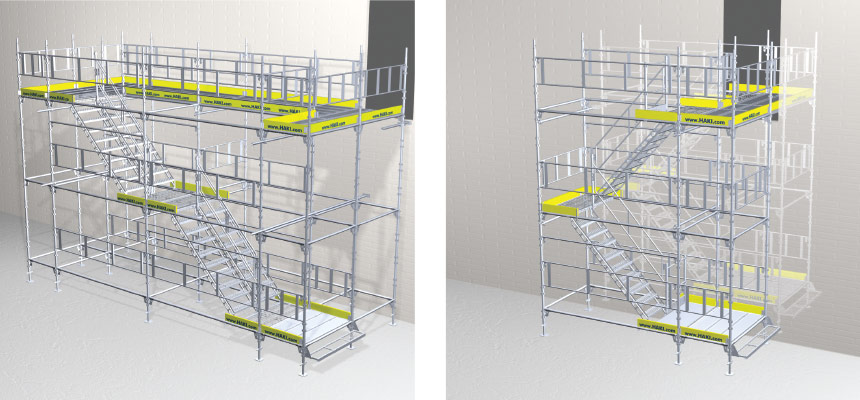 The benefits of HAKI Stair Towers include:
Market-leading 4kN/m² loading.
Advanced Guard Rail for collective measures and fall-prevention.
Option of 2m, 1.5m and 1m lifts.
Adaptable configurations that include double-width stairs and multi-directional access ways. It's possible to configure a solution in a wide variety of arrangements – including clockwise and anti-clockwise ascents, and parallel, twin stair flights.
Components are reusable and compatible with other HAKI system scaffolding solutions.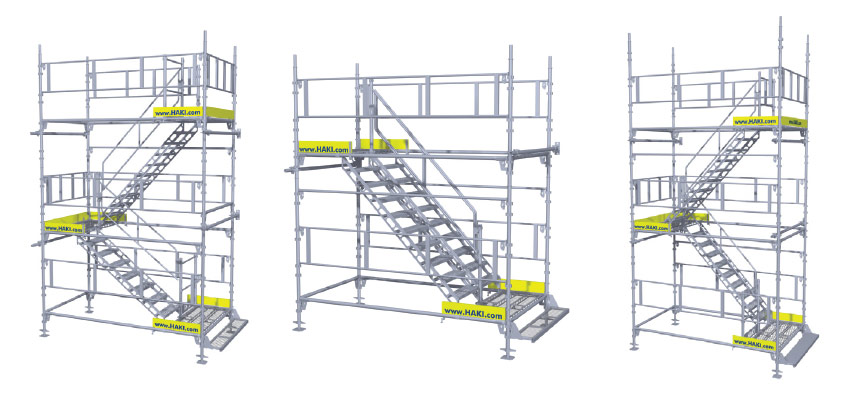 The range includes the following product solutions:
Compact Stair Tower
Traditional Stair Tower (MK1)
Symmetrical Stair Tower (MK2)
Twin Stair Tower (MK2)
Public & Events Access Stair Tower (PAS)
Also, when space is limited, the 1kN/m² loading Compact Stair Tower has a footprint of 2.5m x 1.25m and permits safe and comfortable access for approximately one person per lift. The compact stair tower is suitable for light-duty work applications and can accommodate a complete toe-board system to reduce the risk of falling objects from the platform.
The HAKI stair tower provides a safe, efficient, cost-effective adaptable solution throughout many market sectors, including house building, construction and industrial environment's to enable safe, temporary access. Once erected HAKI stair towers provides workers with speedy efficient access to their intended working level when on-site.
HAKI staircase for sale or hire
When you need to hire or purchase HAKI scaffolding or temporary access solutions, contact Enigma Industrial services direct on 0330 678 1199. We have the largest stockpile of HAKI in the UK, and customers can obtain stock from 7 strategically located Enigma Industrial Services depots throughout the UK. Contact your local Enigma Industrial Services, sales representative for additional HAKI stair tower product information and technical data specification documentation.
Enigma is the official UK distribution partner.