HAKI Universal
HAKI Universal modular scaffolding uses a unique 'hook-on' locking-catch method of erection for a range of applications, from independent and birdcage scaffolds, to a circular tank and suspended structures. Using collective measures during installation and work at height, the system has a long lifespan to achieve maximum safety and productivity throughout the term of a project.
Because of its proven safety and efficiency advantages, the HAKI Universal system is trusted by clients and contractors worldwide. It is used for traditional house building and construction, through to challenging sectors like infrastructure and oil and gas.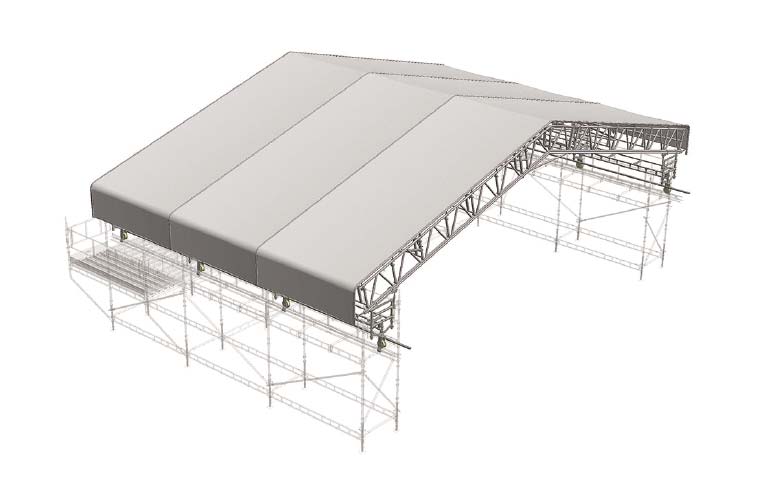 HAKITEC 750 Temporary Roof
The HAKITEC 750 Temporary Roof can be quickly assembled to provide robust weather protection and covering for medium and large sites. Unlike most other temporary roof systems, the HAKITEC 750 uses very few components; making it simple to build in-situ from a scaffolder safe zone or crane into position if space is available.
Using a strong aluminium lattice beam that is 750mm deep, the HAKITEC 750 can be easily tailored so roof trusses cover superior spans and give a gable roof pitch of 15° or 22.5°. Equally as robust is the HAKITEC sheeting. All sheets meet Loss Prevention Standards (LPS), for fire prevention onsite; assuring that workers and the public are not at risk when the HAKITEC 750 is in use.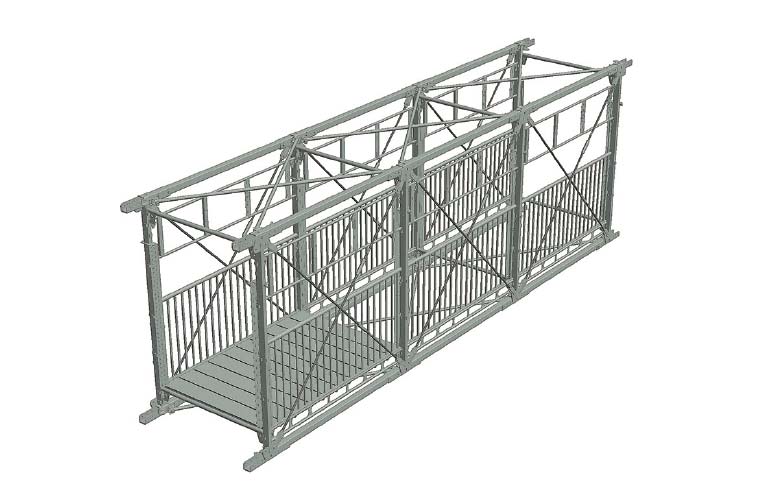 HAKI Bridge System (HBS)
The HAKI Bridge System (HBS) reduces possession times for installation of temporary bridges and provides safe temporary railway, road or river crossings for pedestrians while infrastructure projects are ongoing. Like the Public access Stair, the HBS can handle the loading of up to 7.5kN/m2 and has been designed to conform to leading British and European standards. Incorporating the use of the HAKI Universal system, the HBS uses standard components.
The HAKI Cladding System can also be used to enclose the bridge to offer further safety benefits, including the risk of falling objects and falls from height. The HBS can be erected in three ways, depending on your project specification or environmental conditions:
On a temporary scaffold at ground level, then lifted into place with a crane
On a temporary birdcage scaffold at the finished level
By a progressive 'roll-out' method – without the need for a crane and unaffected by weather conditions
The HBS can also act as a spine beam to support other structures such as scaffolds or temporary roofs.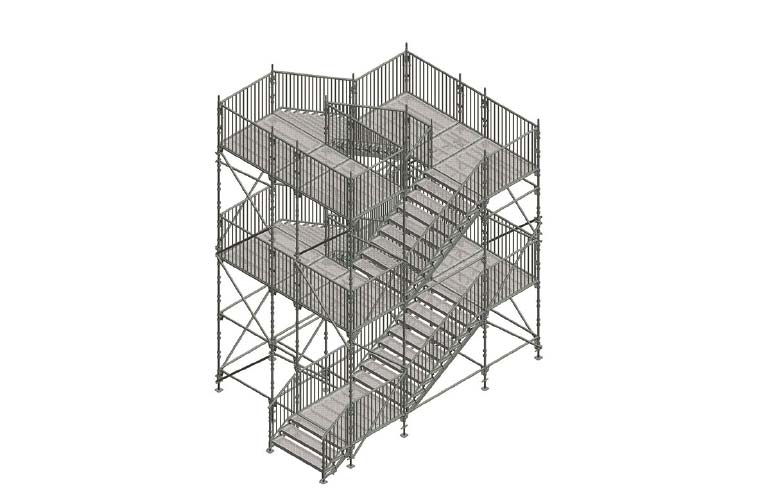 HAKI Public Access Stair (PAS)
In line with the UK's leading standards, the HAKI Public Access Stair complies with current building regulations to ensure the safety of people when gaining access to and moving about in buildings. With stair widths up to 2.5m and market-leading loadings up to 7.5 kN/m², the PAS can handle high volumes of footfall, accommodating up to approximately 36 people per lift at any one time.
The steel structure is also robust enough to last long periods of time without replacement of components. This makes it an ideal temporary access solution in public spaces like railway stations, airports, football stadiums, and schools. Comparable to the HAKI Compact and Symmetrical Stair Towers, various configurations are possible with the Public Access Stair – including in-line and spiral – allowing flexibility in design to suit project requirements. The PAS can also be combined with the HAKI Bridge System and HAKI Cladding to provide a temporary pedestrian bridge in projects.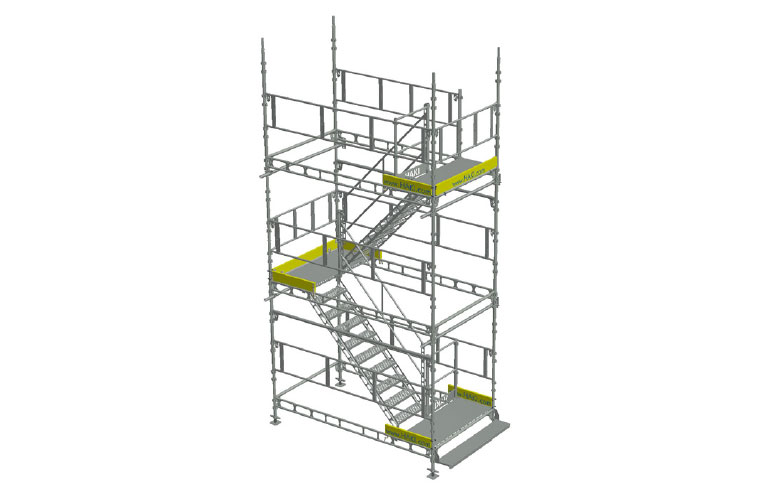 HAKI Stair Tower
HAKI is famous for the market-leading stair tower. As the strongest on the market, with a 4kN/m² loading class, the stair tower is trusted by contractors worldwide for heightened safety, adaptability and speed in temporary access.
The temporary access solution is recognised by industry bodies such as the Considerate Constructors Scheme, as a suggested replacement for ladders to provide safer access and egress on sites.