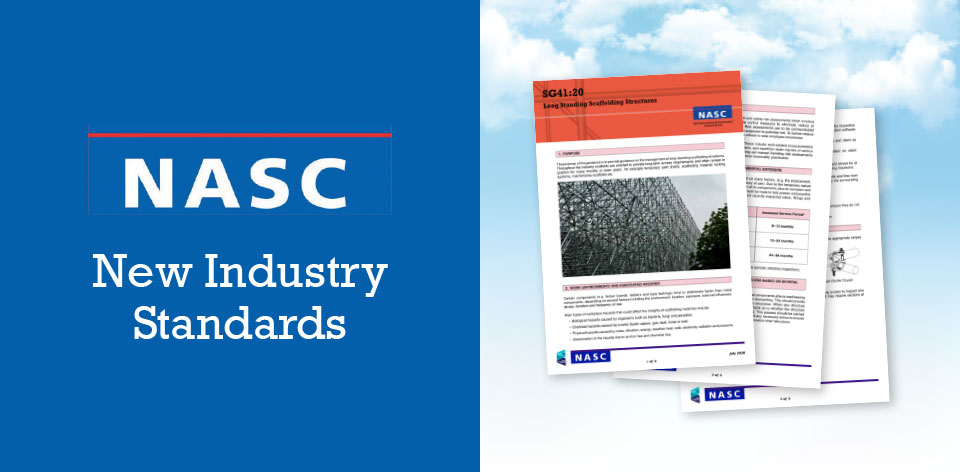 New NASC (National Access and Scaffolding Confederation) Guidance available written by Enigma QSHE & Energy Director Roy Rogers
SG40:20 Scaffold Yard Operations – Management of Scaffold Yards
The National Access and Scaffolding Confederation (NASC) have recently released the SG40:20 Scaffold Yard Operations guidance which aims to identify the risks associated with scaffold yard operations for the scaffold industry and explore possible control measures. Scaffold yards present a number of significant risks which require careful management. Differing specifications for scaffold companies, material, vehicles, plant & equipment, drivers and the potential lack of direct communication between drivers, visitors and scaffold yard staff all contribute to potential risks. SG40-20 Scaffold Yard Operations covers:
Typical Workplace Hazards, Risk Management and Personal Protective Equipment (PPE).
Scaffold Yard Layout including receipt, packaging & issue of stock, hire & sales and unusable stock, equipment maintenance area and administration / welfare facilities.
Plant & Equipment including tools, compressors, electrical equipment, material handling equipment.
Environmental Protection including Intermediate Bulk Containers (IBCs), Bunded Fuel Tanks, Storage of Substances, Spill Management and Waste Management.
Inspection, Maintenance and Storage of Scaffold Material including segregation and quarantine of damaged material and safe use of stillages and fitting bins.
Workplace signage, communication and provision of workplace welfare facilities.
Emergency Arrangements including fire and first aid.
Workplace Inspection and statutory compliance.
SG41:20 Long Standing Scaffolds – Management of Long Standing Scaffolds
Throughout the industry, several scaffolds are erected to provide long-term access requirements and often remain in position for many months or even years, for example, temporary yard sheds, scaffold material racking systems, maintenance scaffolds etc. With the publication of SG41:20 Long-Standing Scaffolds, the guidance provides sufficient information to scaffold owners to ensure that the scaffold structures remain fit for purpose, inspecting the structures at specific intervals dependent on the environment they are erected. SG41:20 Long-Standing Scaffolds enables effective management of structures whilst remaining compliant with the NASC Guidance and provide sufficient maintenance to ensure the integrity of the structure.
The newly published documentation has been written by Roy Rogers, Enigma Industrial Services QSHE & Energy Director in collaboration with the NASC Safety Committee.
https://www.enigma-is.com/roy-rogers-qshe-director/
For more information relating to the newly published guidance please visit the National Access and Scaffolding Confederation (NASC) website
https://nasc.org.uk/