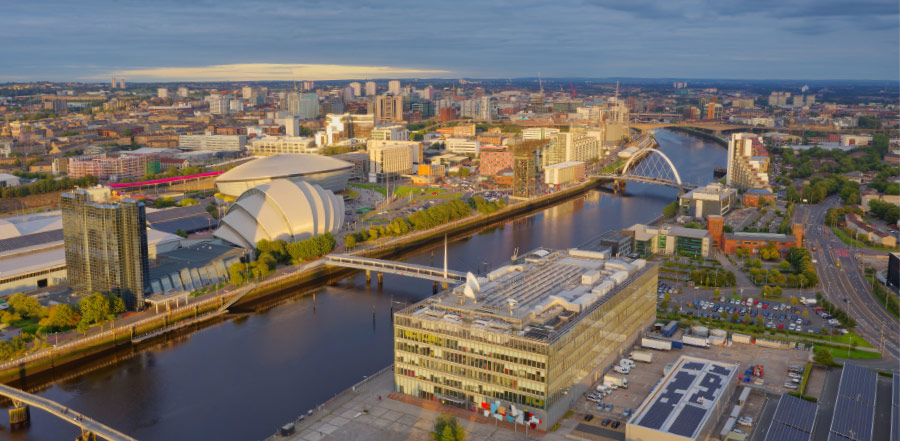 Glasgow's City Development Plan (CDP) 2017 to 2022* identified 6-key districts across the city for regeneration including the River Clyde Corridor, Govan Patrick, Glasgow North, Inner East, Greater Easterhouse, and the City Centre. The plan presents a vision to create a world class city with a thriving economy where everyone can flourish and benefit from the city's success. The skyline of Scotland's biggest city is continually changing, with numerous skyscrapers under construction within the footprint of previously disused buildings or sites, and large-scale property developers continue to build high-rise apartment and hotel buildings on cleared land surrounding the centre to accommodate the growing population. Enigma's Glasgow depot is able to support client's large-scale construction, refurbishment, and restoration projects throughout Central Scotland with temporary access solutions.
Enigma currently operates the UK's largest Kwikstage, HAKI and K2 fleets, and our in-house Design & Engineering Department supports clients' projects from inception to completion by providing economical and innovative solutions.
Below is a small selection of Contract Scaffolding projects we have completed in Glasgow city centre for clients to support their temporary access requirements. We also provide scaffold hire and sales services with over 2,000 scaffolding and access equipment-related products available.
Glasgow Scaffolding Projects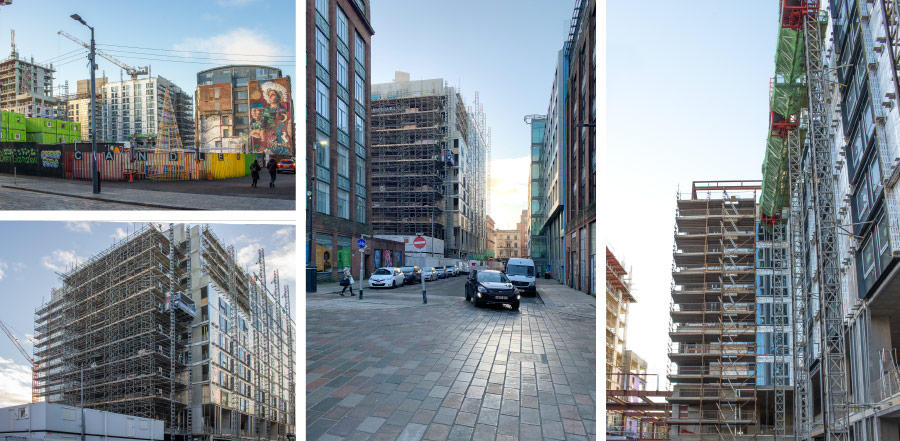 Candleriggs Square (Merchant City) - Glasgow
We provided temporary access solutions including lift shaft access, edge protection, a loading gantry with hoist run-off, and access built from RMD and cantilevered scaffolds, to support leading construction and fit-out company Gilbert-Ash in constructing a £50 million Student Hotel that forms part of the £300 million Candleriggs Square site redevelopment masterplan within the Merchant City area. The new building is a joint venture between Drum Property Group and Stamford Property Investments, and contains co-living and co-working spaces, a bar and restaurant, conference rooms, and fitness centre.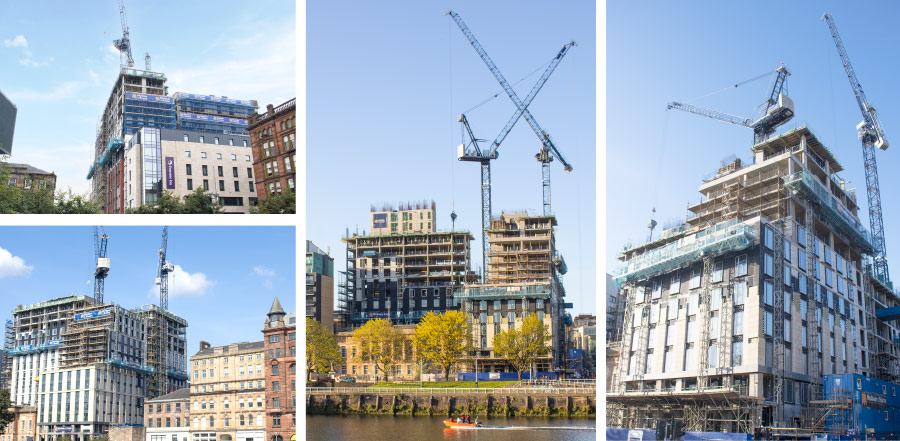 Custom House - Glasgow
To assist the £90m city centre regeneration project to refurbish the historic A-Listed Custom House building and construct two new hotels on-site. Enigma's Glasgow depot supported primary contractor McAleer & Rushe with temporary access throughout the building development project by utilising tube & fitting, Kwikstage, and K2 system scaffolding. The site on the Riverfront in Glasgow city centre now accommodates the 303-bed Clayton Hotel and 162-bedroom Adagio Apart-Hotel.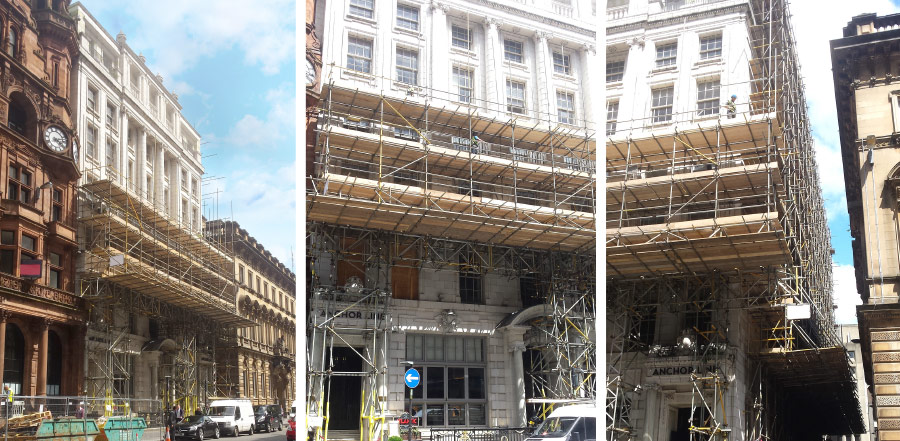 Anchor Line Building - Glasgow
Enigma provided primary contractor ISG with temporary access solutions including a suspended scaffolding to convert the iconic Edwardian Art-Deco styled Anchor Line seven-storey building into a contemporary 64-bed aparthotel containing 64 stylish studios and one-bed apartments, on behalf of The White Building Development Company Ltd. The £5.5m refurbishment project of the six accommodation floors incorporated retaining original features, stripping out redundant fixtures and fittings, replacing windows, and installing a new passenger lift.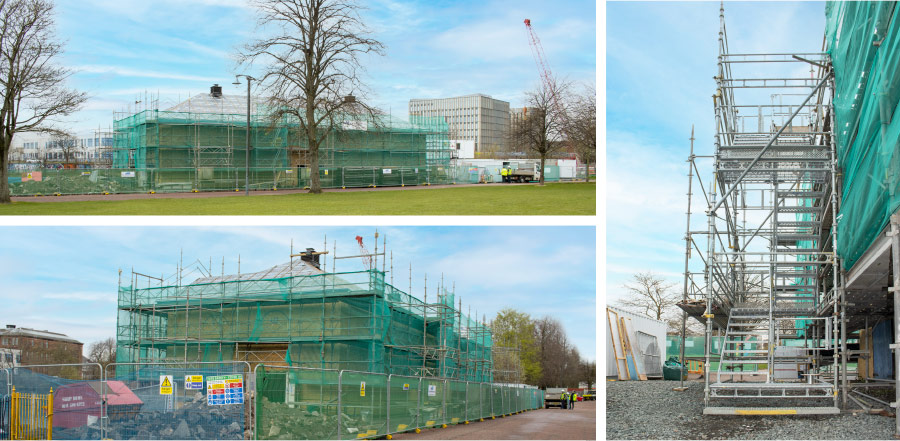 West Boathouse - Glasgow
Provision of temporary access with K2 System Scaffolding to restore the timber frame Category B Listed West Boathouse located on the River Clyde embankment. The restoration works included repairing the building foundations because the 30 timber piles pinning the timber frame to the riverbank were rotten, leaving the structure vulnerable to slippage and movement. The Boathouse, located in Glasgow Green, was constructed in 1905 and is considered a rare building type from that period.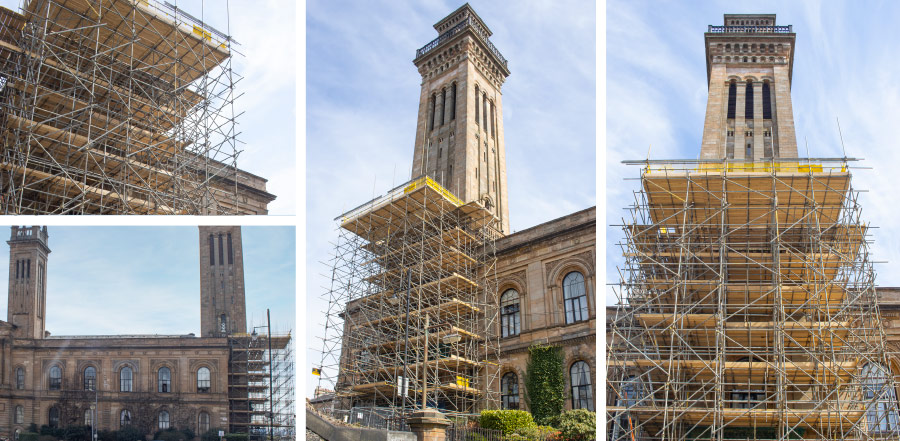 Trinity College - Glasgow
To support necessary masonry repairs on the main building and side elevation of the tower after adverse weather conditions caused stonework to become loose and fall from the historic building's facade. Enigma erected scaffolding to create a safe exclusion zone around the perimeter to enable continued access to the building via the main entrance – while protecting residents and passers-by from any potential falling debris. Trinity College, located in the Park Circus area of Glasgow, was constructed in 1856 and formerly used for training Church of Scotland ministers. The building was repurposed and opened as a private residential apartment block named Trinity House in 1986 after being refurbished.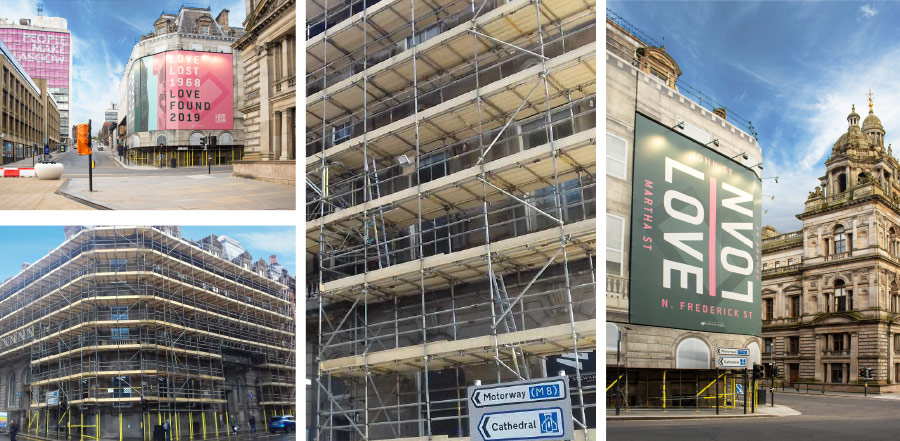 280 George Street - Glasgow
We supported client Chris Stewart Group with temporary access solutions to refurbish the former Inland Revenue building at 280 George Street. The site was part of the former George Street complex housing several City Council departments, and the collection of disused listed buildings have been repurposed via the Love Loan development scheme. To provide a mixture of complementary uses incorporating restaurants, cafes, bars, and residential apartments to reinstate the urban block.
For more information on the temporary access contract scaffolding services we provide to support new and existing clients throughout Glasgow and the Central Scotland region, please, call: 0330 678 1199
Glasgow skyline image copyright Depositphotos.com - Reference source: *Glasgow Development Plan Scheme 2022 - https://storymaps.arcgis.com/stories/a63381bd27a64b4bad85ce44825ad3b2/