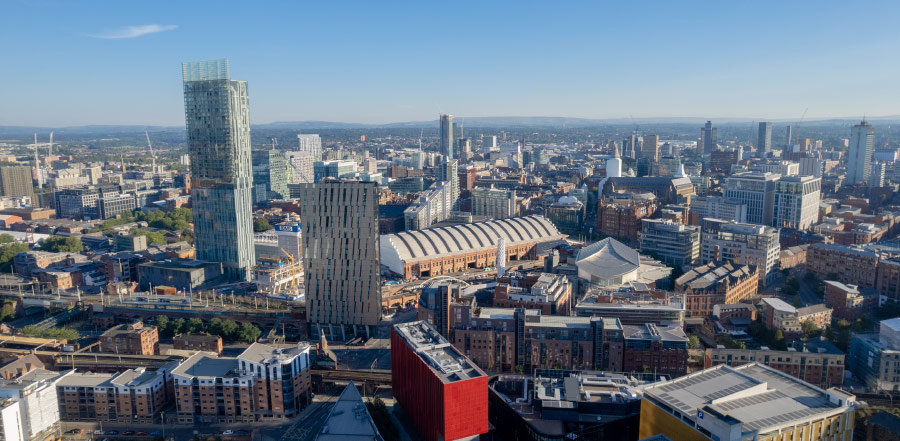 Manchester continues to be one of the UK's fastest-growing cities, with new large-scale developments continually transforming the city skyline. The city currently boasts 18 Skyscraper towers standing at a height of 100 metres (329 ft) or more, with many new high-rise developments planned or under construction. Enigma operates one of the UK's largest scaffolding asset bases with nationwide coverage and is well positioned to support economic growth throughout Greater Manchester with temporary access solutions by assisting contractors facilitating large-scale development or city-centre building refurbishment projects.
Enigma currently operates the UK's largest Kwikstage, HAKI and K2 fleets, and our in-house Design & Engineering Department supports clients' projects from inception to completion by providing economical and innovative solutions.
Below is a small selection of Contract Scaffolding projects we have completed in the Greater Manchester region for clients to support their temporary access requirements. We also provide scaffold hire and sales services with over 2,000 scaffolding and access equipment-related products available.
Scaffolding Manchester Projects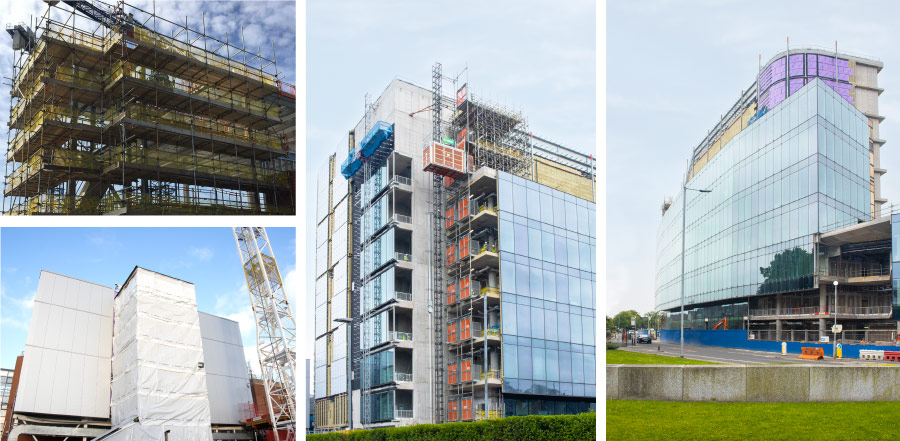 Christies Hospital - Manchester
Enigma supported the construction of the first Proton Beam Therapy Unit in the UK at the world-famous Christie Hospital, Manchester, with temporary access solutions in 2011. We also installed an encapsulated temporary pedestrian HAKI staircase during 2021 to provide hospital visitors with a safe emergency escape route, whilst the new £150m nine-storey state of the art Paterson Building was constructed by primary contractor Integrated Health Projects (IHP), a joint venture between Vinci and Sir Robert McAlpine.
Also, during the build phase of the Paterson Building, a 26,874m² biomedical facility, we provided external temporary access solutions including a hoist tower support scaffold, enabling access to the 8th-9th floors and roof-top area, and erected numerous internal scaffold configurations to assist with the fit-out phase. We also installed HAKI stair towers on the roof-top to provide workers with safe access/egress to complete installation works and carry-out inspection tasks.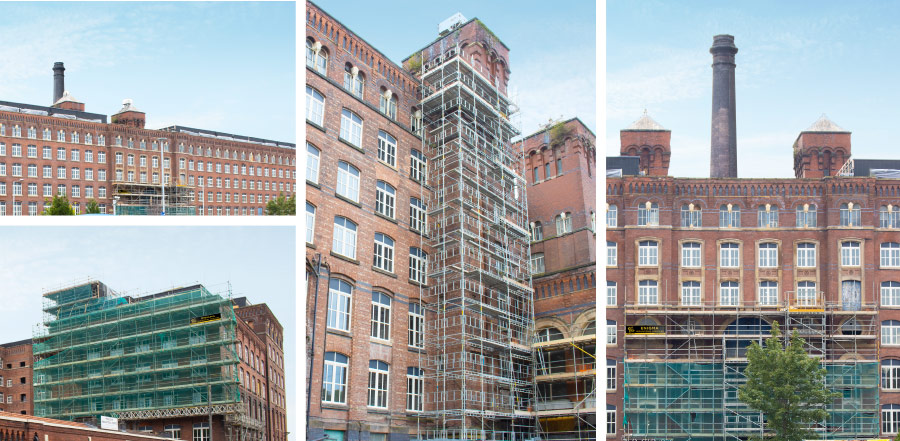 City-centre Building Refurbishment - Greater Manchester
Manchester was at centre of the industrial revolution, and Enigma has supported numerous developers and contractors with the provision of temporary access to refurbish and regenerate disused brick-built mills, factories, and warehouses into modern living accommodation for city dwellers. We provided access with traditional tube & fitting scaffold and HAKI System Scaffolding to restore and convert Meadow Mill into 213 luxury apartments. The historic Grade-II building, constructed in c1880 for spinning cotton and wool, is part of the £1bn regeneration scheme to revitalise Stockport's city centre.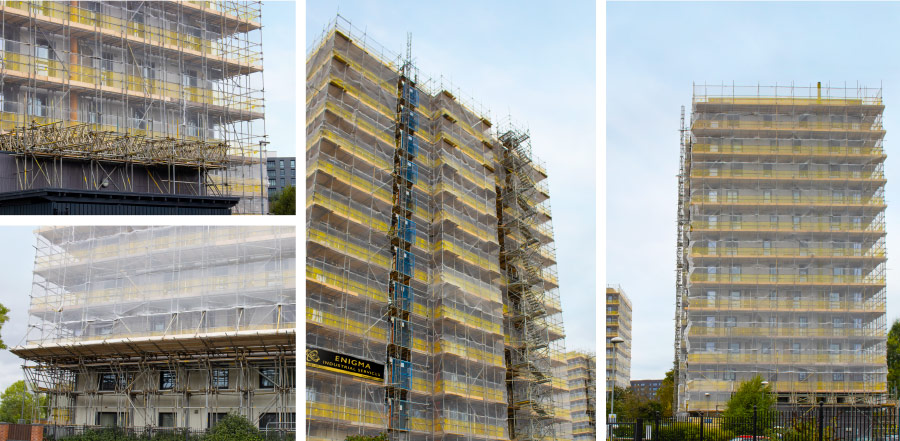 high-rise flat regeneration schemes
Many 1950s-1970's high-rise tower blocks originally constructed to re-house Britain's growing post-war population are in need of refurbishment after reaching the end of their intended design lifespans, and we provide temporary access solutions to support building fabric refurbishment, cleaning, and decor improvement upgrades. Typical projects incorporate erecting full-height scaffolding to support cladding replacement and retro-fitting projects to make buildings more sustainable and energy efficient.
Enigma erected traditional tube and fitting scaffolding to the full height at three blocks of 13-storey high-rise flats in Manchester. To support Tribe, an organisation who regenerate neighbourhoods by 'resurrecting' old iconic high-rise buildings and reconstructing them into modern living spaces for families and young professionals. The temporary access enabled re-cladding and refurbishment works whilst supporting contractors with safe access to install energy-efficient features to help residents reduce their carbon emissions and energy bills
For more information on the temporary access contract scaffolding services we provide to support new and existing clients throughout Greater Manchester and the North West region, please, call: 0330 678 1199
Manchester skyline image copyright Depositphotos.com