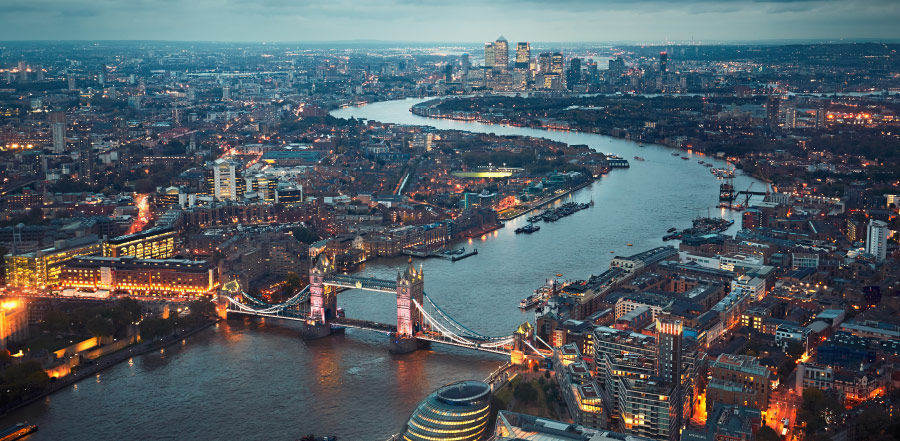 London's skyline continues to evolve with large-scale new developments and infrastructure projects that attract overseas investment. The former Battersea Power Station site is London's largest new development site, with a masterplan to transform the former industrial brownfield space into a new vibrant neighbourhood boasting modern urban living spaces for city dwellers. A £3.5bn renovation is planned for the Royal Docks* to regenerate the disused site that was the centre of the city's shipping industry. Enigma's Rainham depot is able to support clients large-scale construction, refurbishment, and restoration projects throughout Greater London with temporary access solutions.
Enigma currently operates the UK's largest Kwikstage, HAKI and K2 fleets, and our in-house Design & Engineering Department supports clients' projects from inception to completion by providing economical and innovative solutions.
Below is a small selection of Contract Scaffolding projects we have completed in the Greater London region for client's to support their temporary access requirements. We also provide scaffold hire and sales services with over 2,000 scaffolding and access equipment-related products available.
London Scaffolding Projects
The Department Store - Brixton
The Department Store by architects Squire & Partners is a 25,000-square-foot mixed-use development in Brixton, Greater London, consisting of offices, retail units, and residential homes to help revive a local landmark, originally built in 1906 as an annexe to the Bon Marche department store. Enigma provided an adaptable temporary access solution, erected within a tight footprint area to construct the new 5-storey office and mixed-use CLT (cross-laminated timber) structure onsite.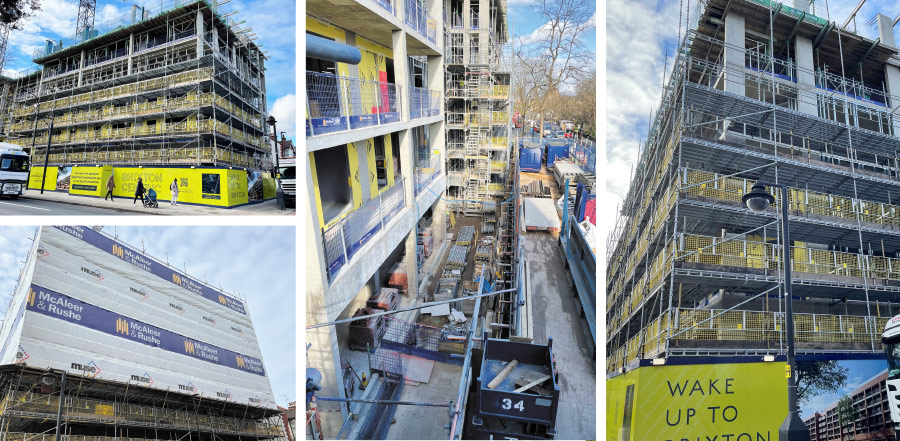 The Brixton Hill Project - London
Primary contractor McAleer & Rushe were appointed by Lambeth Council's development partner Muse, to support the local authorities' wider-regeneration scheme. To demolish the former Olive Morris House council property and construct a new mixed-purpose building on the same footprint accommodating the council's archive and 74 residential homes. Enigma supported McAleer & Rushe with an external façade access scaffold sheeted with branded fire-retardant sheets utilising HAKI system scaffolding for the construction and fit-out phases.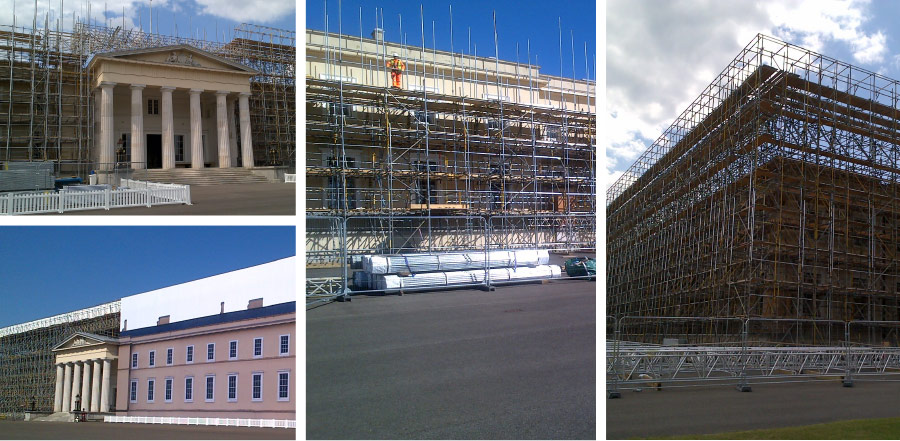 Sandhurst Military Academy - Greater London
To support the £18 million refurbishment project of Sandhurst Royal Military Academy in Berkshire, we erected a fully encapsulated scaffolding around the building perimeter, utilising over 1700 tonnes of material, and installed a temporary roof. The service delivery of this project was critical whilst the Royal Military Academy remained operational throughout the refurbishment works to ensure minimal disruption to Royal visits and Officer cadets graduating from the Royal Military Academy Sandhurst Sovereign's parade. A specialist protective wrap printed with an image of the academy, was attached to the scaffold exterior.
For more information on the temporary access contract scaffolding services we provide to support new and existing clients throughout Greater London, please, call: 0330 678 1199
London skyline image copyright Depositphotos.com - Reference source: *https://www.constructionenquirer.com/2022/07/05/233m-loan-kick-starts-3-5bn-regen-of-royal-docks-site/