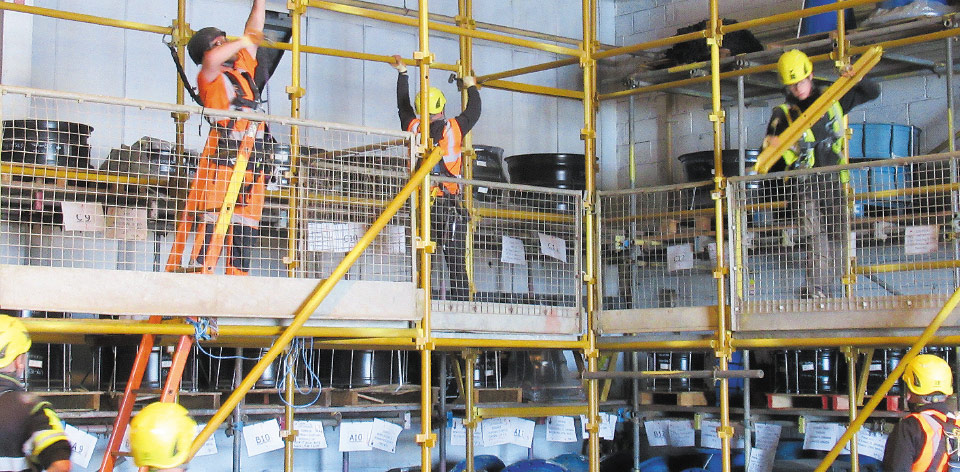 At Enigma, we support existing employees and new starters with ongoing training to develop their vocational skills to ensure they have the necessary qualifications and accreditations to work safely within the scaffold industry.
The scaffold training programmes we provide are delivered in-house or externally via recognised training providers operating within the industry, and many courses are accredited by the Construction Industry Scaffolders Record Scheme (CISRS) and International Powered Access Federation (IPAF).
Typical Scaffold Training Progression Journey
CISRS Base (Basic Access System Erector) Card – Provides non-scaffolders with limited skills and knowledge to erect, alter, and dismantle basic scaffolding structures (In accordance with the manufacturers guidelines and instructions) by using a specific system scaffold product endorsed on the card.
CISRS Trainee Scaffolder Card – All trainees must complete the following courses COTS, CISRS Part 1, CISRS Part 2, NVQ Level 2 SCQF Level 5, and a CISRS 1 Day Skills Test within the card validity period, and trainees should not undertake any scaffolding activities unless under the direct supervision of a qualified scaffolder.
CISRS Scaffolder (Tube & Fitting) Card & CISRS Scaffolder (System) Card holders – Will have successfully completed CISRS Part 1, CISRS Part 2, VQ2/SCQF5, CISRS 1 Day Skills Test & CITB, and are deemed to be a qualified scaffolder who can lead a scaffold team in basic scaffold operations as defined in TG20 and CISRS course content or the relevant endorsed system scaffold indicated on the rear of their card. Scaffolders who only hold a 'System' card are deemed not competent to erect/alter or dismantle any tube or fitting structures.
CISRS Advanced Scaffolder Card – Holders must successfully complete a CISRS Advanced Course and NVQ Level 3 SCQF Level 6, and CISRS 2 Day Skills Test to become an advanced scaffolder who is deemed competent to lead a scaffold team in all scaffold operations, including erecting/altering or dismantling complex design structures.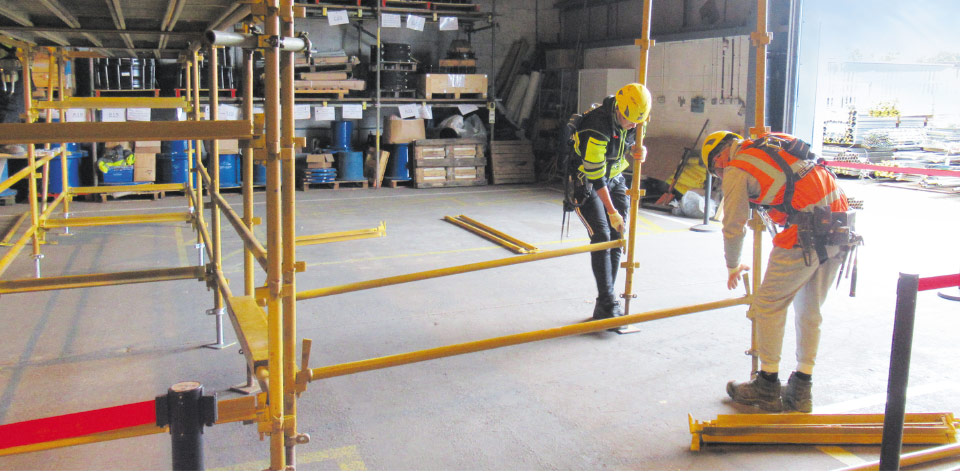 Enigma support employees with a range of in-house scaffold training courses including the following examples:
Scaffold Awareness Course:
The course is aimed at anyone who uses scaffolding as part of their work or has responsibilities for managing site scaffolding operations. To provide attendees with a greater understanding and appreciation of the potential dangers of working at height on scaffolds and enable them to identify the core components of a safe scaffold structure.
CISRS BASE Card Course:
Delegates become familiar with HAKI System Scaffold products and learn to safely construct simple structures through a series of theory and practical assessments, that includes erecting a 4-metre-high static tower, free-standing independent scaffold, loading tower, and stair tower.
HAKI or KWIKSTAGE System Scaffold Product Training:
The course(s) are specifically designed for holders of a CISRS Card (Either a Scaffolder or Trainee Scaffolder) who have completed a Scaffolding Part 1 course. The course(s) provide delegates with the practical and theoretical knowledge to erect and dismantle chosen scaffold systems safely, in accordance with current legislation and the manufacturer's instructions.
TG20 The Good Practice Guidance for Tube and Fitting:
The course provides attendees with the underpinning knowledge required to effectively understand the key aspects of scaffolding requirements regarding compliant scaffolding and access. (On successful completion of the course, an Enigma Scaffold Awareness Certificate is issued to delegates).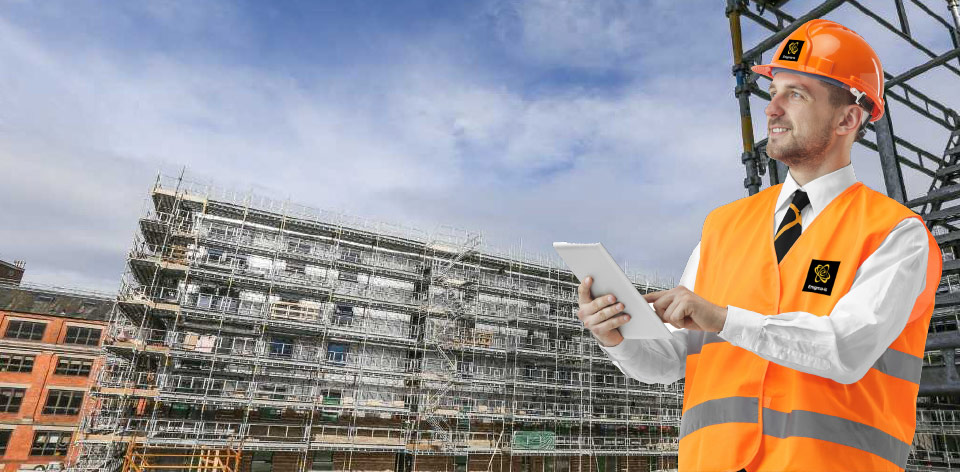 Scaffold Inspection Course
Scaffold inspection is an integral part of all projects to ensure structures are safe and compliant in accordance with 'Regulation 12 of the Work at Height Regulations 2005'. All scaffold structures need inspecting before being used for the first time (prior to client certificate handover) and then every subsequent 7-days. Scaffold structures need inspecting every time they become exposed to conditions likely to cause deterioration e.g., following adverse weather conditions, heavy impact, or substantial alteration.
All inspections must be carried out by a competent person who possesses the necessary training, knowledge, and experience to conduct the scaffold inspection based on the structure's complexity.
The CISRS Construction Industry Scaffolders Record Scheme has two cards for Scaffold Inspection:
CISRS Basic Scaffold Inspection Card – Holders must already have a current valid CISRS Scaffolder, Advanced or Supervisor Card to undertake the scaffold inspection course to carry out statutory scaffold inspections on basic scaffold structures in accordance with the 'Working at Height' Regulation 2005.
CISRS Advanced Scaffold Inspection Card – Enables holders to inspect more complex scaffolding structures, and applicants need to have extensive scaffolding industry experience and held a CISRS Basic Scaffold Inspection Record Card for a minimum of 2 years.
Enigma support employees with 'scaffold inspection' courses delivered by recognised training providers and offer an in-house CISRS Basic Scaffold Inspection Course.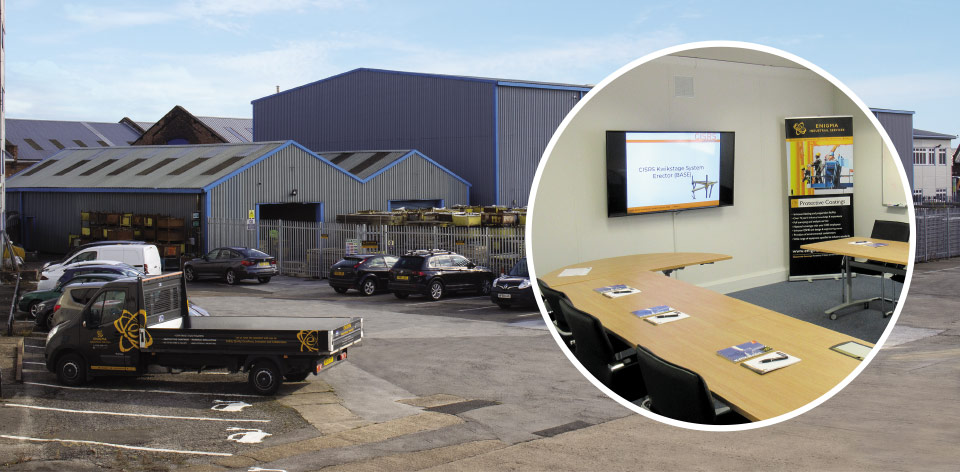 The Enigma Training Centre
We have a strong track-record of working with both internal and external customers across the United Kingdom, creating training programmes that meet the needs of staff development plans. For more information on the courses and training packages we provide, please, get in touch.